Extended Elegant lower thirds Trial Pack for Final Cut Pro
Elegant lower thirds TRIAL PACK for Final Cut Pro
Elegant Lower thirds Version 1.0 10/05/2016 
FEEL FREE TO LEAVE US A TIP!

This elegant Lower thirds pack is unique to most of the packs available on the market as you do not require Apple Motion to use this pack. You have complete freedom to customise the text, font and colour of all text as well as the shapes used. The user has complete freedom to drag and drop the lower thirds as they would any generator file available in Final Cut pro 10. Change the speed of the animation by dragging the ends as you would an image and enjoy customising today. 
GENERAL USAGE NOTES
- Elegant Lower thirds does not support older versions of Final Cut  
- Note the Plug-in is fully customisable in Apple motion but does not require you to own it. 
- Be aware that this plug in can not create custom lower thirds from scratch. Use this Plug in to edit the 6 templates provided. 
- Only edit within the Generator window to avoid errors.    
Installing 
When installing the Elegant Lower Thirds Plug in. Use the installer provided when you download the pack. This will create a folder heir-achy that will will appear in your generators tab in Final Cut Pro 10.     
---
HOW IT WORKS
You may need to close down and re open the tab for the Elegant lower thirds tab to appear in your generators.    
Drag and drop one of the available examples onto your Final cut workspace as you would any other file found in the Generators tab.  Use the Generator tab shown in diagram to edit the lower third. You have the ability to edit the position, scale and rotation of the entire lower third. As well as change Text, the Font, size and the Color of all the text. 
For all the Shapes used you have the option to change the Color and opacity where applicable. For lines included you may also have the ability to change the line thickness.   
An Arrow next to the "Published Parameters" allows you to reset all parameters that you have changed as you go about editing the Elegant Lower Thirds. Do note that all parameters have this option when you click on the arrow down menu beside each parameter. This will reset the individual parameter back to its original.   
Reach us at: e-mail: 
[email protected]
Web site: www.rocketrooster.ninja   Copyright 2014 - 2016 VFXnut All rights reserved. 
Elegant lower thirds and its use are subject to a licence agreement and refer to the user guide for information on use. All other brand or product names are trademarks or registered.
$0
You'll get 1 file (36.7MB)
More products from VFXnut
50% OFF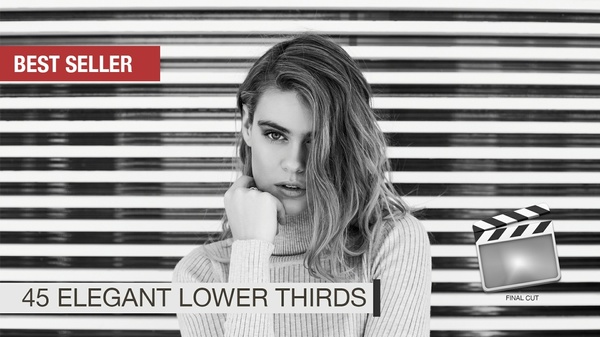 45 Elegant Lower Thirds FOR FCPX
50% OFF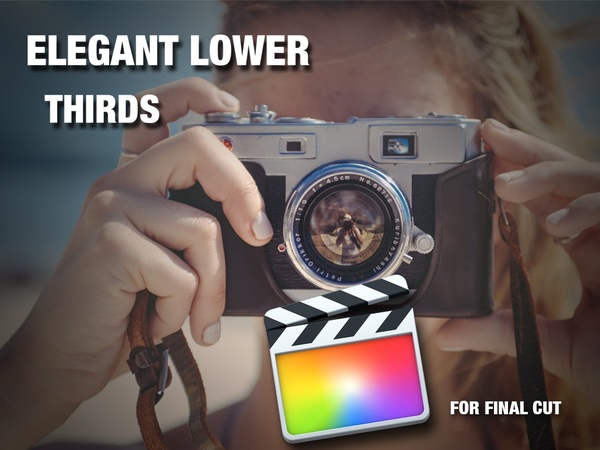 Elegant lower thirds for Final Cut Pro X