Ryobi Power Tools - Illustrated Parts manuals - Worlshop Plant Hire Tools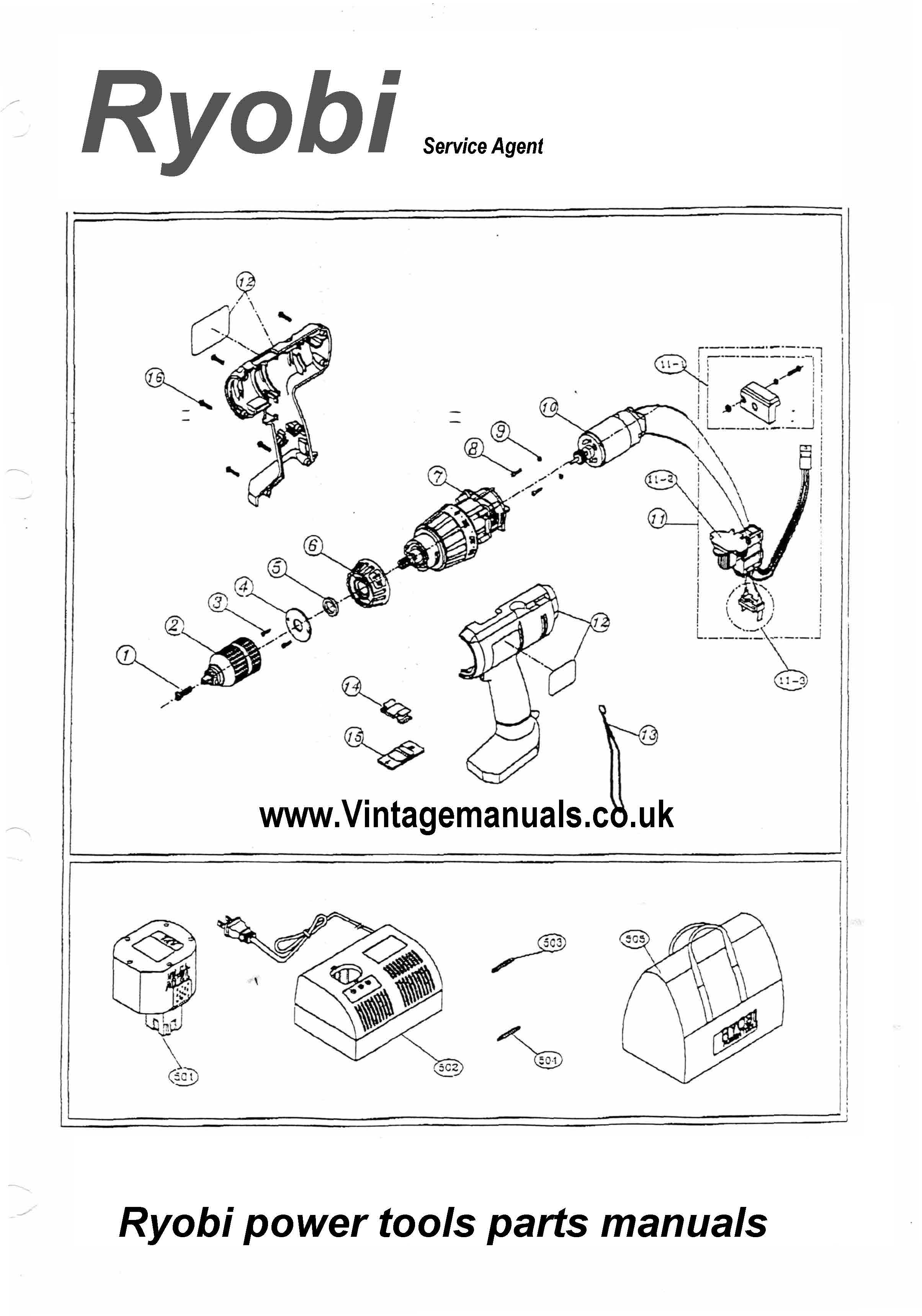 Ryobi power tools parts manuals
Ryobi Factory parts manual
Covering small power tools
Illustrated with drawings
Exploded views every nut and bolt listed
for a large range of tools ideal for the small
tools repair shop these are Trade only manuals
and are hard to find.
Great for pallet repairers Tech Doctors
and Hobby repair workshops.
Take a look at the list of tools covered below.
It speeks for it's self..
Download Contents
Belt sander B850F
Charger BC721B
Charger BC96
Impact Drills BCD1200
Cordless Drills BD 1025R 1025VR
Cordless Drills BDM 1200
Cordless Driver Drills BDM2000 – BDM3000
Cordless Drills 9.6 volt BDT96
Cordless Drills 12v BDT 12-2
Cordless Drills BDT 14-44 ..14 volt
Belt Sanders BE321 ... BE424....BE4240
Angle grinders G1250 ... G1251A ...G1255
Angle grinders G1830 ... G2330 ... G2360
Angle grinders G1850 ... G2350...
Angle grinders G1855 .. 2355
Angle grinders G1855 .. G2325 G2325CL
Angle grinders G2325N ... 2330CL ... G2360 CL
Angle grinders G2355 GL ...
Chain Saw HC410
Single Speed Drills HP121K ... HP161K ... HP721K
Single Speed Drills HP961B
Cordless Hobby tools HTC18
Impact Driver ID100
Planer AP10 ... AP10N
Belt Sander B7075 ... B7100
12V Torch BFL 120T
Table Saw BT250ET... BT250ET ... BT3000
Cordless Impact Driver BID 2000 ... BID3000
Blower BL110
Cordless Impact Driver Drill BPD1200
Concrete Cutter C125
Cutting Saw C306MA ... C307ND... C356ND
Cutting Saw C356D ... C357
Drill Driver CDT120 ... CDT144 ... CDT1200
Drill Driver CDT1440 ... CDT1800
Concrete Hammer CH460P Standard and European
Concrete Hammer CH465 ... CH485 .. CH500P
ALC Cutter CJS150
Chain Mortiser CM30 .. CM30N ... CN31
Impact Drills CPD1200 ... CPD1440 ... CPD1800
Cordless Drill CTH1202K2 ... CTH1442K2
Reciprocating Saw CRS1800
Circular Saw CW1440 ... CW1800
Electric Drills D100VR .. D1015A .. D130VR
Electric Drills D1310 ... DE1310
Electric Drills DE1320 ...
Diamond Core Drill ... DCD80 ... DCD125
Chisel Mortiser DM20A
Screwdriver E3800 ... E3900 ... E3900A
Screwdriver E4000 ... E4000A ...
Rotary Hammer ED205VR .. DE262VR ...ED265V
Rotary Hammer ED350 .. ED382NP ... ED382P
Rotary Hammer SDS max – ED400 – 450E
Petrol powered Impact Drills EH1930
Petrol powered Reciprocating Saw EJ100
Petrol powered Pneumatic Rotary hammer ER160
Petrol powered Pneumatic Rotary hammer ER260
Petrol powered Pneumatic Rotary hammer ER392K
Die Grinder G600 .. 1001A
Grinder G1005 .. G1159A ..
Note there are 60 Manuals in this set!
That's a very good collection of small tool manuals
Note these are parts manuals not workshop manuals.
Self running Data DVD simply pop in your drive and GO!
Easy to use easy to print from.
** EXTRA - EXTRA - EXTRA - EXTRA **
Also included on this Data DVD is the modern Data Base
this Cover Ryobi Tools from 1999 through 2013 and covers
most Ryobi small Tools electrical and mechanical.
There are 275 manuals in this Archive. These are listed in
part manual order numbers in three directories.
Instant Download - No Hanging around for post
Easy to Use Easy To Print From
You'll get 1 file (1.3GB)