Terms of Use and Store Policies
Due to Covid-19 all responces to issues may have a delay. Please remember most all questions and issues can be found/addressed with the information and or links below. Please stay safe, and I thank you all for your continued support. ♥
---
★ All digital item sales are final and non-refundable★
---
---
Help LInks: Compressed Files* https://sellfy.com/p/ydcj2l/
Meshes/Texture Rezing/Adding Meshes/Downloading Issues * https://sellfy.com/p/ydcj2l/
---
---

* I do not/will not share your name and or e-mail when making purchases in my shop. I am aware many people use fake names with their imvu accts and when buying files some are concerned about real information, it is not my bussiness. Again all your personal information will not be shared in any shape or form.  If you are buying files in which I have resale rights... the only information any third party would need is the IMVU acct the products will be used on.


If you forget to include you IMVU acct name in payment, please message to one of the options above. Also please include your paypal e-mail. Any questions or concerns also use the contact information above. DO NOT message CCQ on IMVU

Because all files are digital, ALL sales are final and non-refundable. All files are zipped and or compressed.. so you will need a program to extract the files. (Need Help, Download below)https://sellfy.com/p/atUv/ .Once you purchase and or download you are agreeing to all rules listed. It is your responsibility to view and or read the link provided to these terms/rules, no exceptions!


When you purchase and payment is complete you will get a instant download (this also will be e-mailed to you via sellfy) I DO NOT send files via e-mail.. This is what I pay sellfy for. If you still have issues with your download please contact me and I will check your files and download. Before Purchasing, make sure you don't already own the product(s), there will be NO refunds for this.
---
Facebook:
IMVU Shop & File Sales
https://www.facebook.com/CCQIMVU/
Personal Page: (Fastest Responce Time)
https://www.facebook.com/wickedlyccq
E-Mail:
[email protected]
---
(This Link Contains All Rules as well as resale right information for my Files)
https://sellfy.com/p/JJC3/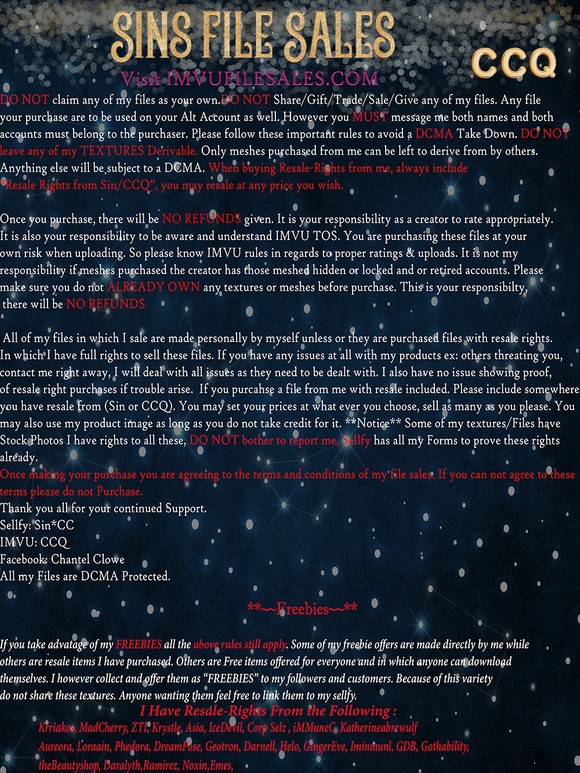 Resale-Rights:
[email protected]
---
Resale-Rights:
[email protected]

[email protected]
File Sale:
https://file-sales.com/index.php?f_seller=2
---
---

---
---
NEW
For those having issues with downloading files

***Please note all my files are 100% Safe*** When downloading any files you may a pop-up, options, warning about the file you are trying to download. This is because the file name/where it came from is "Unknown" to either your firewall settings, Antivirus Settings, Add On's on your browser and or broswer itself. You can over ride this by clicking "Continue", or "I understand the Risk".
There will be 0 Refunds over anything like this. This happens many times when downloading from unknown sources. It is a easy fix, you can also list my store under trusted "site".