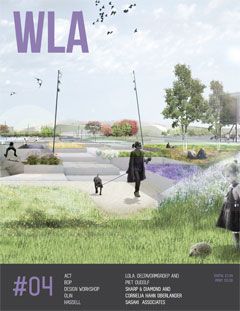 WLA 04 | Landscape Architecture Magazine
Projects featured in WLA 04 include
MARGARET MCMILLIAN PARK | BDP
SHIFTING FIELDS | ACT
CENTRAL DELAWARE RIVERFRONT MASTER PLAN | OLIN
RIVER OF LIFE | HASSELL
WILMINGTON WATERFRONT PARK | SASAKI ASSOCIATES
PETRA STRATEGIC MASTER PLAN | DESIGN WORKSHOP
STAR MAZE | LOLA, DELTAVORMGROEP AND PIET OUDOLF
VANDUSEN BOTANICAL GARDEN VISITOR CENTRE | SHARP & DIAMOND AND CORNELIA HAHN OBERLANDER
More from this seller
The latest edition of WLA Magazine - WLA 22 is an unthemed edition including amazing projects from across the world. This 84-paged unthemed edition showcases a diverse range of 18 projects from the USA, Denmark, Australia, South Africa, Singapore, Iceland, Germany, Scotland, Belgium by renowned ...
WLA 21 | Research & Policy brings together some of the most interesting landscape research providing readers with insight into numerous topics including landscape of sound, the blue-green process, sea change, how to rethink dying shopping streets, vacated vacation homes, speculative urbanism, urban ...
The 20th edition issue WLA Magazine is a celebration of contemporary, stunning landscape architecture from around the world and features some of the most distinguished landscape architectural projects including Akasya Acibadem Central Park in Istanbul, Public Media Commons in St. Louis, Missouri, ...