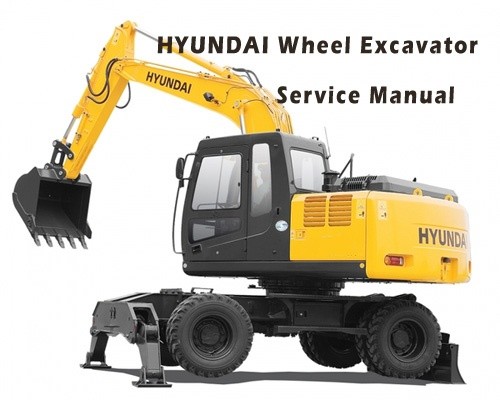 Hyundai R55W-7 Wheel Excavator Service Repair Manual Download
This is the most complete service repair manual for the Hyundai Robex 55W-7 Wheel Excavator.
This manual contains service,repair procedures,assembling,disassembling, wiring diagrams and everything you need to know.

Service Repair Manual Covers:

SECTION 1 GENERAL
Group 1 Safety Hints
Group 2 Specifications

SECTION 2 STRUCTURE AND FUNCTION
Group 1 Pump Device
Group 2 Main Control Valve
Group 3 Swing Device
Group 4 Travel Motor
Group 5 RCV Lever
Group 6 RCV Pedal
Group 7 Brake Pedal(Valve)
Group 8 Gear box
Group 9 Steering Valve
Group 10 Axle

SECTION 3 HYDRAULIC SYSTEM
Group 1 Hydraulic Circuit
Group 2 Main Circuit
Group 3 Pilot Circuit
Group 4 Single Operation
Group 5 Combined Operation

SECTION 4 ELECTRICAL SYSTEM
Group 1 Component Location
Group 2 Monitoring System
Group 3 Electrical Circuit
Group 4 Electrical Component Specification
Group 5 Connectors

SECTION 5 TROUBLESHOOTING
Group 1 Before Troubleshooting
Group 2 Hydraulic and Mechanical System
Group 3 Electrical System

SECTION 6 MAINTENANCE STANDARD
Group 1 Operating Performance Test
Group 2 Major Components

SECTION 7 DISASSEMBLY AND ASSEMBLY
Group 1 Precaution
Group 2 Tightening Torque
Group 3 Pump Device
Group 4 Main Control Valve
Group 5 Swing Device
Group 6 Travel Device
Group 7 Gear box
Group 8 Steering Valve
Group 9 Front Axle
Group 10 Rear Axle
Group 11 RCV Lever
Group 12 Turning joint
Group 13 Boom, Arm, Bucket Cylinder
Group 14 Work Equipment

SECTION 8 COMPONENT MOUNTING TORQUE
Group 1 Introduction Guide
Group 2 Engine System
Group 3 Electric System
Group 4 Hydraulic System
Group 5 Undercarriage
Group 6 Structure
Group 7 Work Equipment

APPENDIX

ENGINE SERVICE MANUAL

INJECTION PUMP SERVICE MANUAL

==================================================
High Quality PDF Manual,All pages are printable.
Instant Download
No Shipping Cost
No Need to Wait For A CD-ROM


File Format: PDF
Language: English
Compatible: All Versions of Windows & Mac
Requirements: Adobe PDF Reader & WinZip
Thanks for visiting!
You'll get 1 file (95.1MB)