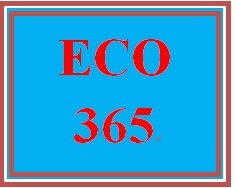 ECO 365 Week 1 participation Principles of Microeconomics, Ch. 2: Thinking Like an Economist
Entire Course Link
https://zh.scribd.com/document/340327850/Uop-Tutorial
ECO 365 Week 1 participation Principles of Microeconomics, Ch. 2: Thinking Like an Economist 
Read Ch. 2 of Principles of Microeconomics:   
2-1 The Economist as Scientist, pp. 20-26  
2-2 The Economist as Policy Adviser, pp. 27-29  
2-3 Why Economists Disagree, pp. 30-33   
Consider the following as you read:   
Consider how to apply the economic terms, supply, demand, elasticity, comparative advantage, consumer surplus, deadweight loss to the consumer market.  
Consider your personal experiences in theory, case studies, and examples of economics in the news and how you can apply it to refine your skills.  
Consider what is distinctive about how economists confront a question.  
Consider what it means to think like an economist. 
You'll get a 31.5KB .DOC file.