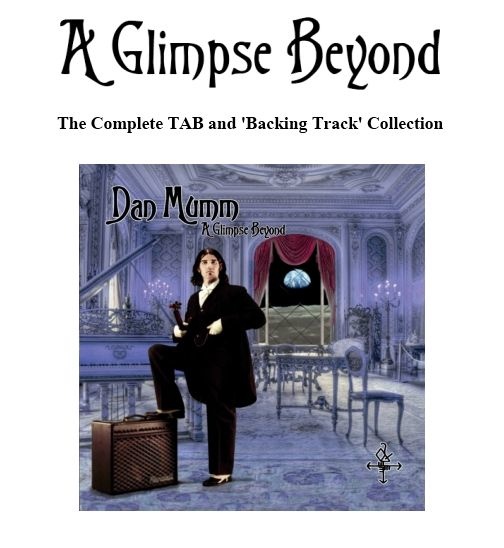 Complete TAB Book and 'Backing Tracks' - A Glimpse Beyond - Dan Mumm
***IMPORTANT*** After making your purchase look for the download link! If you close it out, you won't be able to get to it again.
The complete TAB Book and 'backing track' collection for Dan Mumm's album 'A Glimpse Beyond'. This download contains both the complete TAB book (as a PDF booklet and as individual Guitar Pro files) and the 'backing' tracks (in mp3 format), for the album. If you've already purchased the TAB book or 'Backing Tracks' separately, please go to
www.DanMumm.com/tab
to find the other standalone download.
TAB book and 'Backing' track list (contains TABs for 12 songs and Backing Tracks for 11):
1. Anthem Of The Mad (TABS but no backing track)
2. They Were As Stone
3. Glass Alice
4. A Glimpse Beyond
5. Hungarian Rhapsody No. 2
6. The Point Of No Return
7. Toccata And Fugue In D-minor
8. In Moment And Memory
9. Spirit Of Dreams
10. La Folia (Corelli)
11. Quoth The Looming Dusk
12. The End
You'll get 1 file (72.0MB)