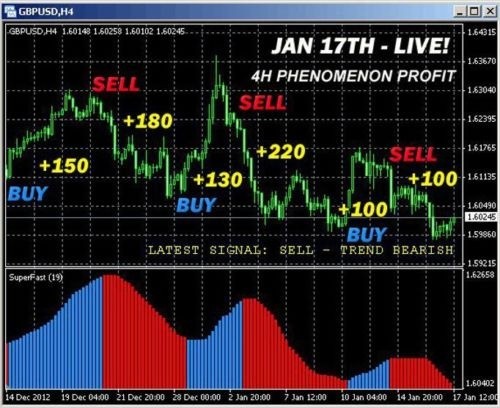 Super Fast Forex Indicator NEW
YOU WILL GET A ZIP/WINRAR FILE OF YOUR EBOOK ON CD SENT BY MAILAn incredibly super-fast newest 2013 trading tool that generates the fastest trading signals...This is the most brilliant trading tool that can generate the fastest trading signals and tell you exactly when and what to trade in forex. This turns out to be the most successful implementation ever made. Its certainly not the holy grail but believe me is extremely profitable. The Super Fast indicator is the fastest tool ever designed (as far as I know..), guaranteed to give you the speediest and the most accurate trading signals you've ever experienced. Its ability of being super fast makes it fully accurate in terms of telling you exactly right in time when you should either buy and sell given currencies, making you successful in the market every time regardless of your trading experience.                                                                           The ultra speedy indicator is provento generate an outstanding maximumprofit from any new trade! That's fact!Speed is a key!The most brilliant trading tool that can generate the fastest trading signals and tell you exactly when and what to trade in forex turns out to be the most successful implementation ever made.Exploiting the most powerful functionality in the easiest to perform way of trading is the result of this remarkably designed tool. The new Super Fast Indicator is in fact the world's fastest tool ever made, capable of making forex trading easy, powerful and robust for the first time ever. All those years spent on producing one product with such a high level of quality can now be exploited, allowing you to use a technology that is at least a few years ahead.The idea behind it is to build the FASTEST BUY SELL SIGNALS indicator that catches a new trend BEFORE it any other known Forex tools!The IT technology being utilized on this product is really unique, able to generate the fastest trading signals, produced out of the most advanced calculations. Such a level of quality in a product itself is really impressive and can really make the difference. The new amazing Super Fast Indicator is extremely impressive.Proven to generate  150-250 pips EVERY DAY ! The World's FASTEST tool ever designed…Experiencing the unique Super Fast Indicator, your opinion of forex trading is guaranteed to change. The market doesn't seem to be so bad once you get hold of what you wanted all along.PROFIT! I know it is easier said than done but with such a remarkably designed tool, optimization of the fastest trading is experienced where the outcome, believe it or not, is always successful. We are simply talking about software that is capable of performing the most sophisticated calculations in no time in order to know every market's movement in advance. Now you can be told exactly when to trade once a super fast signal arrives. This kind of trading is far more consistent, powerful and robust than anything else that may be available. Up to 100-200 pips on daily basis can now be yours using this absolutely fabulous software where its speed and performance  are guaranteed to blow you away.Making profit in the forex market in the most pleasant, enjoyable and easy way is now reality. Something unique is finally here to change our awkward and failed ways of trading and instead allow the market to be viewed from a completely different angle. A viewing angle that is always profitable no matter what. Getting hold of an indicator where market movement is shown before it even occurs in the most amazingly fast and easy to understand way is a rare occasion in forex.With the introduction of the new Super Fast Indicator, market movement prediction is a piece of cake. Knowing exactly when to place a trade can now be shown right on your chart in the most easy and user-friendly way that you've never seen before. Trading performed with the new Super Fast Indicator is going to blow you away. Why? This unique software jumps off the page. Who would imagine that you could actually make a profit just by simply looking at your charts and trading based on a current signal. Thanks to the new remarkably designed Super Fast indicator trading couldn't be more simple, easy and enjoyable.
All information will print directly on your chart + popup alerts and email alert - Take profit, Smart Stop loss etc..:

The informer, an astonishing piece of functionality that comes with this speedy tool can now ease your trading up to a point where you no longer have to look at price market movement. Such a remarkably designed tool is capable of printing current market trend and signal right on your charts so you can never miss an opportunity to make big gains even if your are a first time trader. It doesn't really matter to this point, a super fast trading signal right in time can make you successful each time in forex no matter what. Any frequent and catastrophic false trading signals will come to an end and that's a promise.

You'll get 1 file (246.6KB)
More products from MYDIGITALSTORE