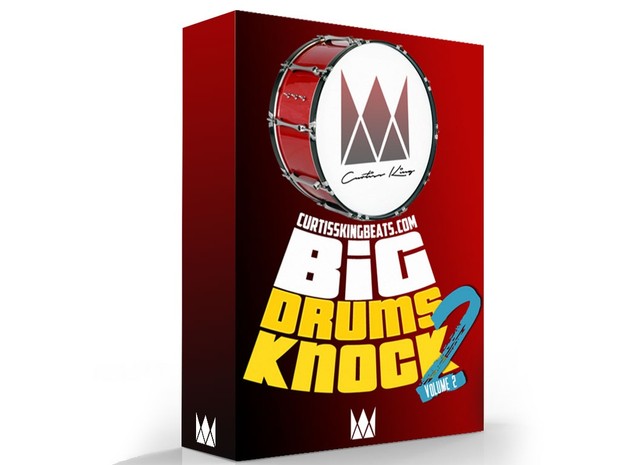 Curtiss King Beats - Big Drums Knock Vol. 2 (Digital Download)
CurtissKingBeats.com
is proud to announce the 2nd volume of our popular drum kit series "Big Drums Knock." This time around I returned to deliver you
DOUBLE
the amount of customized sounds in each category. Additionally, I dramatically increased the quality of each sound as well as created an electrifying custom vocal pack with DJ Big Cali. Many of you asked for more choices in certain categories so I stepped up the variety in your sound options in hopes of delivering you your new
favorite
go-to drum kit.
Listen to a Demo Reel of the kit here:
http://bit.ly/bigdrumsknock2
So, don't waste anymore of your
valuable
time searching through dull drum kits looking for that golden
KNOCK
. My goal was to create a drum kit that I would honestly find myself again and again to, and I must say I've BEEN putting this kit to AMAZING use! \
If you love
BIG DRUMS
that
KNOCK
, you are right at home!
BIG DRUMS KNOCK VOL. 2
Includes:
- 40 Snares
- 30 Percussive Instruments
- 25 Hi-Hats
- 25 Kicks
- 23 Cymbals
- 18  Original Vocal Chants
- 17  808(s)
- 16  Curtiss King Drum Loops
---
---
Curtiss King is a 12 year Independent Hip Hop Recording
Artist, Music Producer, Consultant, and Entrepreneur driven by the sole
purpose to help the people by providing them value. He has had the
opportunity to work with artists such as Kendrick Lamar and corporations
such as VANS, MTV, & VH1. Curtiss embodies the "Do It Yourself"
mantra, having taught himself how to create and design his own
multi-media presentation. From editing his own music videos to designing
his own websites and album covers, King has never allowed inexperience
to stop him from learning. As a partner with Youtube, Curtiss
hosts a weekly music marketing video series (Artist Marketing &
Producer Marketing 911) where he shares an incredible amount of advice
and inspiration to his fellow musicians.
You'll get 1 file (75.4MB)
More products from Curtiss King