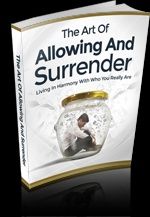 The Art Of Allowing And Surrender
Sometimes, life is out of control. During these unwanted situations, you have no choice but to surrender. Without any question, you will just accept the fact that you lose.

However, surrendering is not about giving up. It is an art of allowing other beautiful things to come within. Believe it or not, surrendering is a not a sign of weakness, but rather a strength.

"Introducing… The Art of Allowing and Surrender!"

This powerful tool will provide you with everything you need to know to be a success and achieve your goal of getting your life in control to a successful place.

With this product, and it's great information on surrender it will walk you, step by step, through the exact process we developed to help people get all the info they need to be a success.

In This Book, You Will Learn:

*Figuring Out What You Truly Value
*Figuring Out What You Need To Surrender To
*How Allowing and Surrender Works
*Getting in the Right Mindset
*And so much more!

Available in PDF. This eBook is for the personal use of the buyer only. It can not be resold.

Note:

This product comes with NO warranty or guarantee of any kind.

The author and distributor hereby disclaim all liability for the use of this product. You accept all responsibility by using/selling it.


P.S. You've got nothing to lose in this investment. You will only miss 100% of the shots you don't take. Don't make the same mistake of those who
close this page and miss out on a tremendous opportunity!
You'll get a 829.1KB .PDF file.
More products from Smart Life Skills