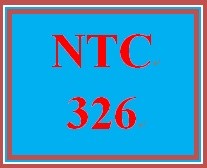 NTC 326 Week 5 Individual Lab Challenge
NTC 326 Entire Course Link
https://uopcourses.com/category/ntc-326/
NTC 326 Week 5 Individual: Lab Challenge
Complete the following MOAC Labs:
MOAC Lab 19, "Configuring Group Policy Processing"
MOAC Lab 20, "Configuring Group Policy Settings"
MOAC Lab 21, "Managing Group Policy Objects"
MOAC Lab 22, "Configuring Group Policy Preferences"
Complete the Lab Challenges for MOAC Labs 19, 20, 21, and 22, and take a screenshot that captures the outcome. Paste the screenshot into a Word document for submission.
Note: For help preparing for the MOAC Labs and Lab Challenges, review the appropriate section of the 70-411 Administering Windows Server 2012 R2 Lab Manual. 
Submit your assignment using the Assignment Files tab. 
You'll get 1 file (2.9MB)
More products from UopTutorials