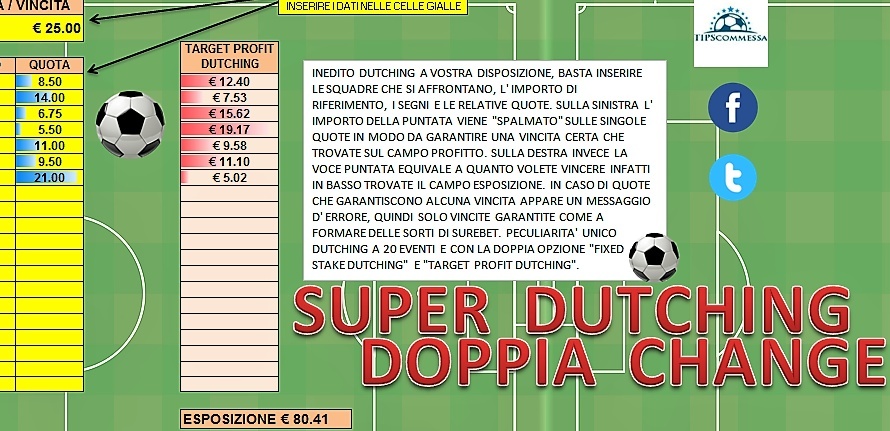 Super Dutching Doppia Change
Inedito Dutching a vostra disposizione, basta inserire le squadre che si affrontano, l' importo di riferimento, i segni e le relative quote. Sulla sinistra l' importo della puntata viene "spalmato" sulle singole quote in modo da garantire una vincita certa che trovate sul campo profitto. Sulla destra invece la voce puntata equivale a quanto volete vincere infatti in basso trovate il campo esposizione. In caso di quote (la quota minima deve essere maggiore a 1,30) che garantiscono alcuna vincita appare un messaggio d' errore, quindi solo vincite garantite come a formare delle sorti di surebet. La peculiarità? Unico dutching a 20 eventi con la doppia opzione "Fixed Stake Dutching" e "Target Profit Dutching".

----------------------------------------------------------------------------------------------------------

Unpublished Dutching at your disposal, just enter the teams that deal with, the amount of reference, the signs and their odds. On the left, the stake amount is "spread" over the individual odds so as to guarantee a certain payout you find on the profit side. On the right, however, the bet entry equals how much you want to win, in fact below you find the exposure field. In case of odds (the minimum stake must be greater than 1.30), which guarantees no winnings, an error message appears, so only guaranteed winnings such as surebet. The peculiarity? Unique dutching to 20 events with the double option "Fixed Stake Dutching" and "Target Profit Dutching".
You'll get a 215.4KB .XLSX file.