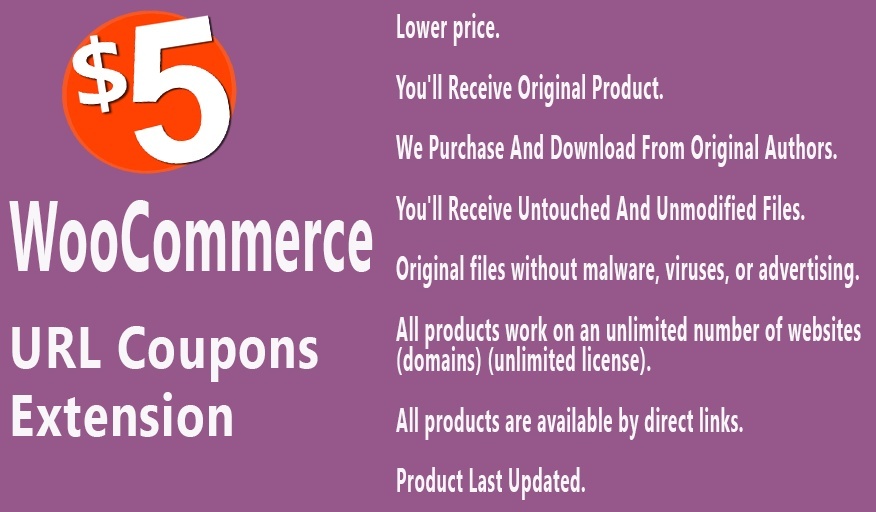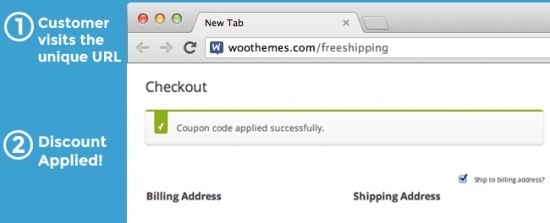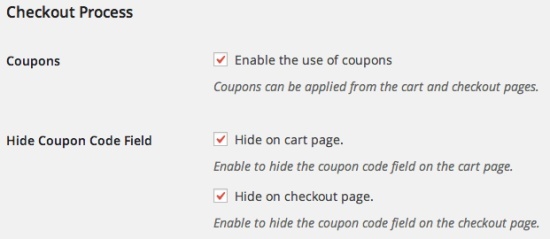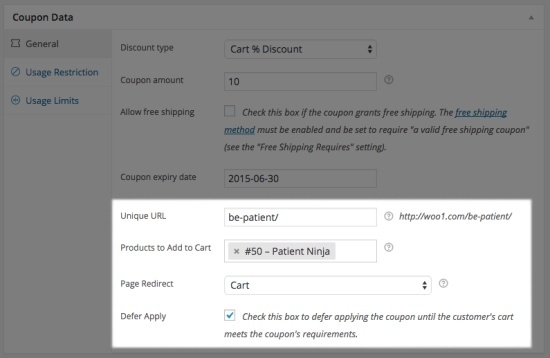 WooCommerce URL Coupons Extension
WooCommerce URL Coupons 2.6.1 Extension
---
WooCommerce URL Coupons Extension Version : 2.6.1

WooCommerce URL Coupons Extension: lets you add a unique URL to a coupon code that automatically applies a discount to a customer's shopping cart.

---
Exactly the same! This is the EXACT same plugin (Version 2.6.1) being distributed by WooCommerce.com
---
WooCommerce URL Coupons Extension: Why You Need ItWooCommerce URL Coupons Extension extends the WooCommerce coupons functionality. Add a unique, clickable URL to any WooCommerce coupon. Using or clicking on the coupon will apply the discount. You can even configure the url to be applied directly to the customer's shopping cart when clicked!Research shows that customers don't like to go off site to search for coupons. Your sales conversion rates will suffer. WooCommerce URL Coupons Extension solves this problem. Trigger coupons based on page or post url, and redirect customers who have visited a coupon url.
---
Buy Now============================================You'll get a download link immediately after purchase============================================Lower price.You'll Receive Original Product.We Purchase And Download From Original Authors.You'll Receive Untouched And Unmodified Files.Original files without malware, viruses, or advertising.All products work on an unlimited number of websites (domains) (unlimited license).All products are available by direct links.Product Last Updated.Download WooCommerce URL Coupons.You'll receive the exact .zip file you would download from the original author. If you buy from here, you can save your money up to 99% and 100% virus free.View
https://woocommerce.com/products/url-coupons/

You'll get a 143.9KB .ZIP file.
More products from WooCommerce Plugins Extensions