Bryce Fuel injection equivelents Book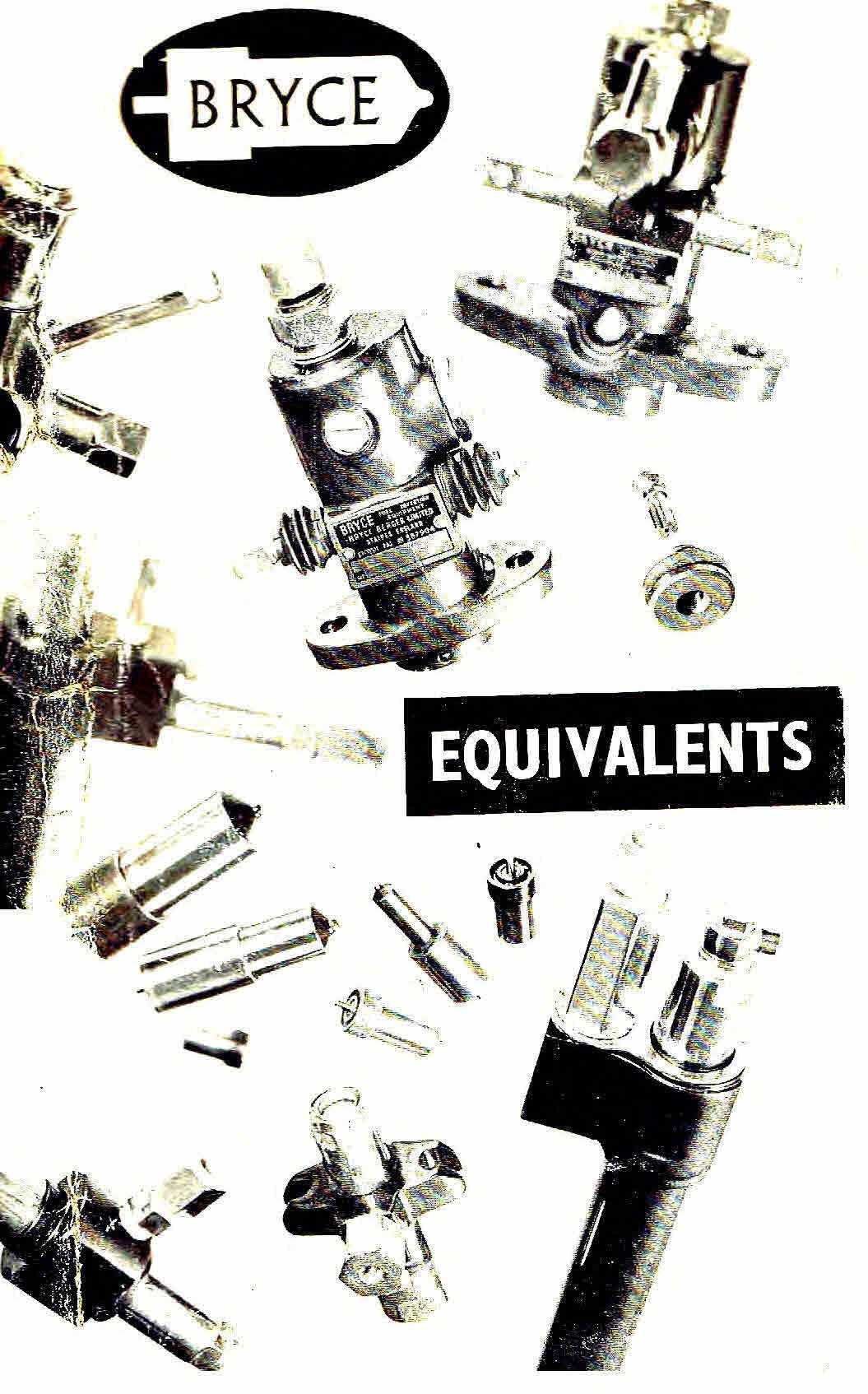 Bryce Fuel injection equivelents Book
Nozzel Equivelents
for Cav Bosch and American Bosch
Pintle Nozzles
for Cav Bosch and American Bosch.
Specigications
Pumps, Nozzles, Holders, Nozzel setting presures for
Mclaren Engines Nirlees Engines National Engines
Petter and Petter Fielding
The Book List
Engine Type
NozzelNumber
preasure settings
Engines models covers are
Acieries Du Nord. AEC Reagel Reagent Reliance
Mamouth major Mandator
matado rmercury Monarch Alicia crage
Albion Alpha Romero Alpenland Anglo Belian
Armstrong Witworth Armstrong siddeley Bamford
Basse and Selve Baudouin Bausher and Co
Bautz Bedford Bergius berlist
Bernard Blanchie Blackstone BMC
BMMC Bohm Mah Bohringer Bohen kahler Bolinder
Borgward Bradford Gas Hreda Brescia Brush Electrical
Buckau R Wolf
Buda Buhrer Bussing Nag Coventry Crossley D.A.F
Daimler  Daimler Benz David Brown Tractors DennisDeutzDeville
Diomand Diepholzer Dorman Secher Enfield English electric
Ensinger Euclid Fahr Famo Farmal Farmann  Faun Fendt and Co
Ferry Engines Fiat Fross Bushing Gema Glenfier
Graf and Stift Guldner Gut brod
BMG Hutter Kaeble  Jensen
Kamper KDw Krauss Lanz
Leyland RA Lister Lister Petter Mack
Mak Man Marshal  Man Fowler Martin Massy Harris Tractors
Mclaren Henrey medows Menic  Miag Mirrles
JVST Morris commercials National Gas Newage Chainbers
Gaf Coventery engines Pagefield Paxman Peguiot
Renault Russel Ruston Seddon and many more
Covers Equivelents for
Cav To Bryce
Bosch To Bryce
American Bosch To Bryce
Cav Service Notes Feed Pumps Governers 1979 through 1985
Cav Lucas Confidential Trade only Service notes
date from 1985.
Subjects include
VW governors Replacement leavers
GR and GX governor fixes
GM governor fixes.
All Leaf spring Governor Ramp settings
VP Feed pump service Bulls.
DFP3 feed oump Diaphram fix
Leyland feed pump service notes 1974
DFP fuel pump Design changes
Boost controle governers service governer 23 1975
Hydraulic governors Locking plate mod 1975
SF governor Part number changes 1975
LWEB governor Leyland application notes 1976
Leyland 510 governor application 1980
GM governor controle rod block fix. 1981
Rolls Royce Design improvements for Drive seals 1983
Service notes vary in size from 1 page to 10 pages
Very useful service data esential mechanics service data
good for the Garage or pit library.
Instant Download
You'll get 1 file (29.5MB)