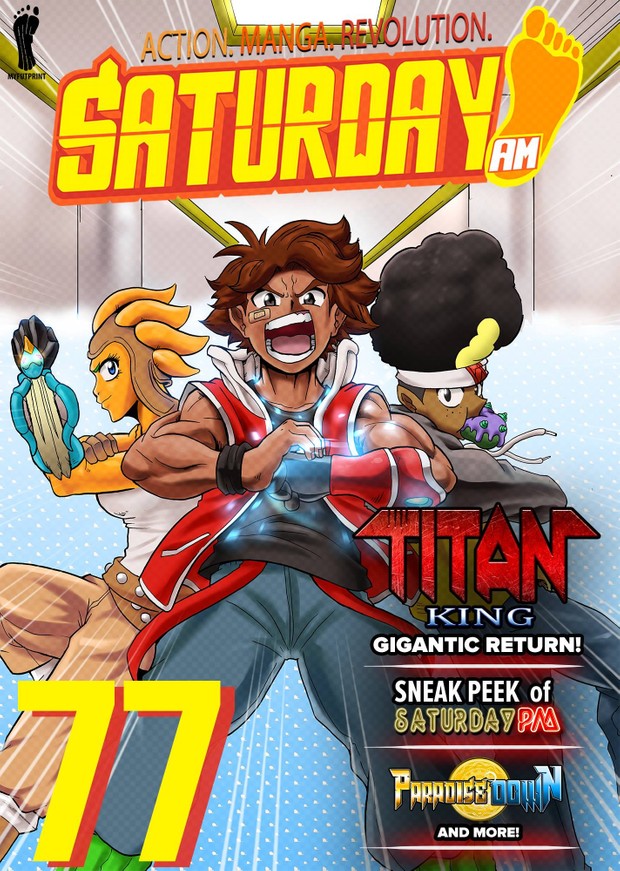 Saturday AM #77
SATURDAY AM IS BACK!

The HOLIDAYS and SNOW are upon us BUT we got just the perfect thing to battle any boredom...a new issue of THE MOST DIVERSE SHONEN MANGA COMICS ANTHOLOGY around...SATURDAY AM!!

In this issue, we bring back some of newest hit series and one tried and true POWERHOUSE.

TITAN KING by Tony Dawkins picks right up where it's 3-part PILOT chapter finished this summer -- love 80's action cartoons? You'll dig this giant monster throwdown!

PARADISE DOWN by Jaime Molina is a certified HIT! Fun characters? CHECK. SUPER-POWERED THIEVES?? Double check. Kick-ass ART? SUPER CHECK!

MUTTON CHOP is one of our first funny animal series and Anthony Jackson and Berat Ljumani have NOT stopped bringing the humor. Fun, action series for those who love Cartoon Network!

SAIGAMI by Andrea Voros is not only one of our longest running series but it's also beginning the serialization of it's third volume!! Amazing, isn't it? Few webcomics or digital comics get to this level of consistency and success but Saturday AM's shonen-shojo series, SAIGAMI, has done it. Check out the just release VOLUME 2 of this hit series and then read this installment!!

Quite a lot right?

Damn right it is. 

But there's more! Get ready for a SNEAK PEEK at our MATURE, SEINEN spinoff anthology, Saturday PM!

Enjoy your Christmas hangover with sheer HOLIDAY FUN via Saturday AM!
You'll get 1 file (106.3MB)
More products from Saturday AM