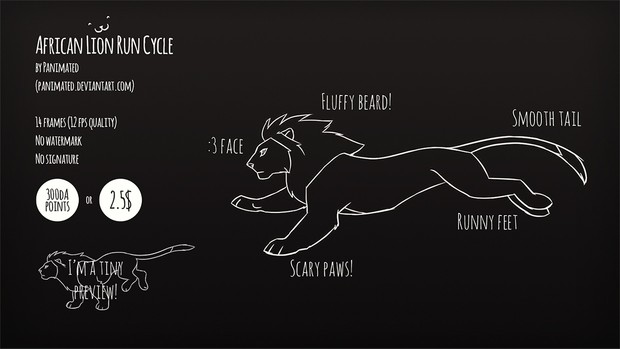 Lion Run Cycle Template
Preview the animation here!
http://fav.me/d7abefh
The download comes as a .zip-file, containing:
- 1 PSD-file with all frames (arranged and ready for animating)
- 1 folder with all 14 frames as normal .JPG-files
- 1 folder with all 14 frames as transparent .PNG-file
The template consists of 14 frames, and it's recommended that you run it at 12 frames per second for it to look the most natural. It can also be run on 24 fps, but your lion might look a bit hyper in that case.
This is obviously a male lion, so I will try and make a lioness/tiger sometime in the future. If you can't wait though you are free to change it however you want to make it look more feminine or masculine, or smaller or bigger or fatter or thinner or- whatever you want! once you've bought it, it's yours to do whatever your heart desires
You can NOT use this for:
- Commissions
- Redistribution (don't sell it or give it to anyone for free, or make it available to people to download for free or for your own earnings)
Q: Can I use it as a base for a gift?
A: Yes!
Q: Can I use it as a base for requests?
A: Yep!
Q: Can I use the animation/still frames from the animation in my comic/series etc., and then sell the series/comic?
A: Yup!
You don't have to give me credit, but I would be veryveryveeeery grateful if you did, so more people get to know about it! :heart: :heart:
Thank you for downloading!
You'll get 1 file (1.9MB)
More products from Sonja "Panimated" Langskjær