JAASEP-Spring/Summer 2014 - Journal of the American Academy of Special Education Professionals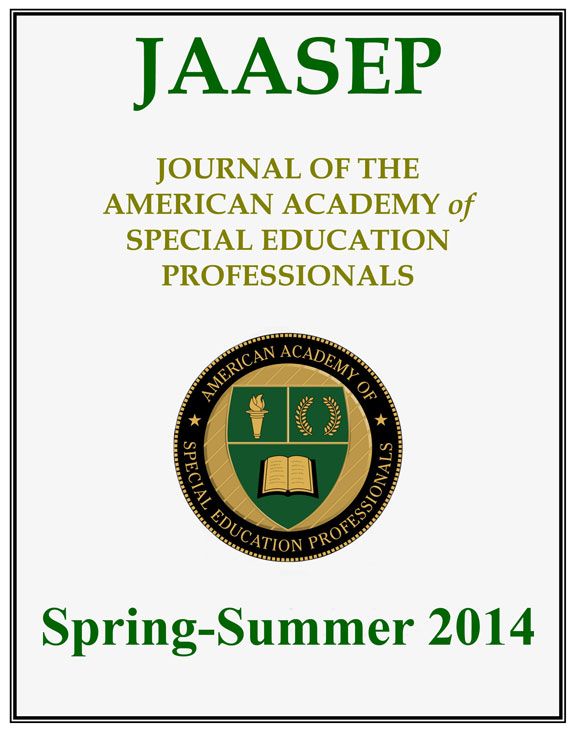 JAASEP-Spring/Summer 2014 - Journal of the American Academy of Special Education Professionals
JAASEP Spring/Summer 2014
Table of Contents

Using E-Readers to Improve Reading for Students with Mild Disabilities

Importance of Quality of Life Issues: A Pilot Comparison of Teachers and Parents of Children with Autism Spectrum Disorders

Effects of Early Childhood Education on Children with Hearing Impairments in Special Schools in Kiambu, Murang'A and Nyeri Counties, Kenya

Bringing ABA into Early Childhood Routines to Meet the Needs of Young Children with ASD

Perceptions of Pre-Service Teachers As They Relate to Professional Practice

Effectiveness of Transitional and Follow-Up Programmes to Community Integration of Young Adults with Intellectual Disabilities (YAWID) in Kiambu County, Kenya

Family Communication: Strategies for Building Effective Partnerships and Working Relationships

ADHD in Preschool: Approaches and Teacher Training

Practitioners' Perceptions of Their Knowledge, Skills and Competencies in Online Teaching of Students with and without Disabilities

Effects of Environmental and Instructional Factors on Student Motivation and Self-Directed Learning
More from this seller
The adrenal glands, located on the top of each kidney, are responsible for releasing different classes of hormones. Adrenal gland disorders occur when the adrenal glands do not work properly. They can be classified into disorders where too much hormone is produced or where too little hormone is ...
Students with disabilities face many obstacles as they transition from school to work. The process of deciding future career options can be challenging and involves careful considerations. Although there are many careers to choose from, individuals with disabilities have traditionally been limited ...
Introduction Schools in the United States have always welcomed new immigrant children to their classrooms – according to the most recent data, there were more than 840,000 immigrant students in the United States, and more than 4.6 million English learners. We have begun to receive inquiries ...
Choose product
Place order
Download product
Secure 256-bit connection
Choose product
Place order
Download product