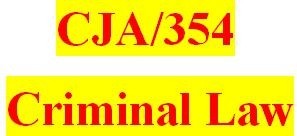 CJA 354 Week 3 Personal Crimes Analysis
**********************************************
CJA/354 Entire Course Link
https://uopcourses.com/category/cja-354/
**********************************************
CJA 354 Week 3 Personal Crimes Analysis
·        
Prepare a minimum 1,200 word analysis regarding personal
crimes. In your Personal Crimes Analysis, first, identify and briefly define the
different types/levels of homicide: (first degree, second degree, manslaughter
and negligent homicide), and include examples (hypothetical or real-life) of
each.  Do NOT discuss
Justifiable/Excusable/Criminal; ONLY define 4 types of criminal above.) 
·             
·        
Then, analyze how the intent of various types of homicide compares
with the intent of these 5 forms of personal crimes, in your own words.  (NOT degree, but Intent.)  Be sure to DEFINE and differentiate all of
following types of personal crimes, AND include examples (hypothetical or
real-life) of each: 
·        
Assault (premeditated like 1st
degree murder? Or knowing like 2nd degree murder? Reckless like
manslaughter, etc)
·        
Battery (Premeditated like 1st
degree murder? etc)
·        
Mayhem (etc)
·        
Rape (etc)
·        
Statutory rape (etc) 
· Format your paper
consistent with APA guidelines. Format your paper according to APA standards, and include level headings
throughout the paper itself. (See Sample APA Paper in the Center for Writing
Excellence if you are not familiar with these types of headings--
https://ecampus.phoenix.edu/secure/aapd/CWE/pdfs/APA6thWritingStyleSamplePaperV8.pdf)
.
·         
·        
Limit your outside (ie, other than the textbooks
for this
·        
class)
sources to three, total.  
You'll get 1 file (25.3KB)
More products from UopTutorials