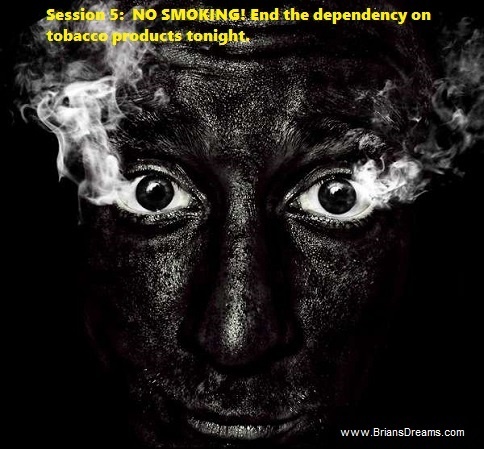 Quick Smoking Now, Overnight Miracle Cures by the Worlds Psychic Top Dreamer, Brian Ladd : Session 5
Overnight Subliminal Miracle Cure Program by Psychic Brian Ladd.
Session 5:  
NO SMOKING! End the dependency on tobacco products tonight.
This is a special program that contains some very special affirmations and frequency tones that will turn anyone into a non-smoker overnight.
Embedded in this session are over 50 dream drawings and graphic images depicting what smoking is doing to your body right. 
All images are converted directly to sound using HyperMammut Algorithm and you may view these images by using any audio spectrograph software.
Session 5 contains:
23 separate audio tracks.

12 affirmations from past dream and voice by me.

Continuous image tracks during the entire 8 hour program.

Over 900 separate dream scans from my diary from 2005 to 2015, converted and embedded as sound files.

Special frequency tones and oscillations related to teaching the body to reject behavior that does harm to itself.

Selected sections from previous programs and 2 new programs I just finished working on.

Embedded graphic images of body parts being destroyed by your smoking lifestyle.

All images are converted to sound files using special software using the HyperMammut Algorithm and other techniques I discovered myself. 
To learn more about me, my family and my online work since 2005, visit one of my sites at:
http://brianladd.org
http://briansdreams.com
http://briansprediction.com
or on your phone @
http://briansprediction.mobi
You'll get a 89.0KB .JPEG file.
More products from Overnight Subliminal Miracle Cures by Brian Ladd