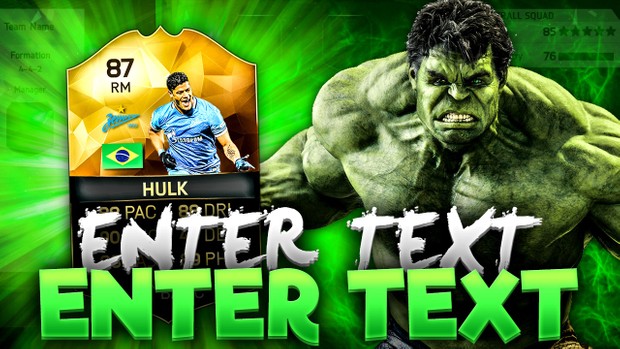 FIFA 16 87 INFORM HULK THUMBNAIL TEMPLATE
87 HULK THUMBNAIL TEMPLATE!!! You can use it for pack openings, squad builders, reviews, etc! For pretty much every style of fifa video!
THIS THUMB IS FULLY EDITABLE IN PHOTOSHOP, BUT IF YOU DONT HAVE PHOTOSHOP, THERE IS 1 SEPARATE THUMBNAIL WITH CHANGED TEXT INCLUDED(IT WONT SAY ENTER TEXT, IT WILL SOMETHING RELATED TO THE THUMB)! YOU DONT NEED PHOTOSHOP TO USE THIS THUMBNAIL! YOU NEVER GET THIS ON ANY OTHER THUMBNAIL SOLD HERE!

I have released 4 of this styled thumbs from this TOTW 30, with:
Griezmann
Hulk
Lacazette
Pedro
You can buy them separately for $1 or in the a pack that saves you money
Stay tuned for more, if you want cheap personal gfx then contact me on
twitterwww.twitter.com/SJDznCFC
You'll get 1 file (17.8MB)
More products from SJDzn