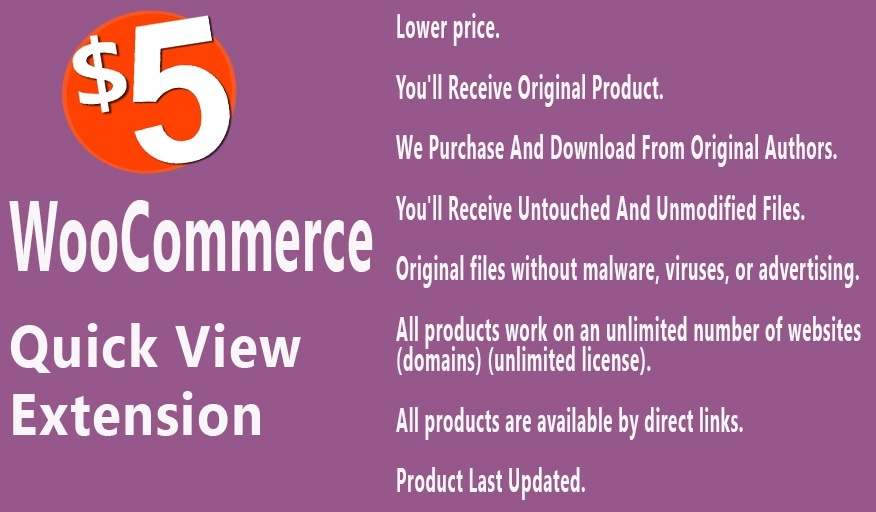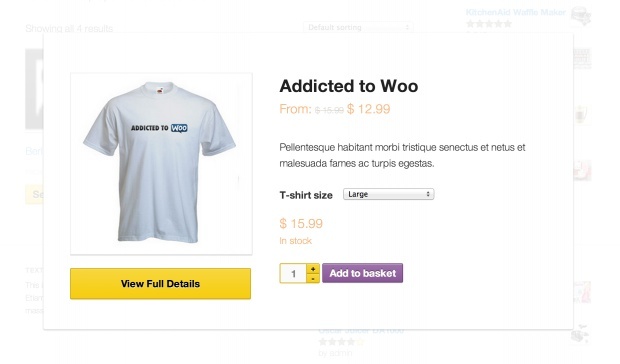 WooCommerce Quick View Extension
WooCommerce Quick View 1.1.12 Extension
---
WooCommerce Quick View Extension Version : 1.1.12WooCommerce Quick View Extension: This Extension adds a 'quick view' button to WooCommerce product loops. When clicked, the button opens to view product details and to add products to the shopping cart via lightbox popup.
---
Exactly the same! This is the EXACT same plugin (Version 1.1.12) being distributed by WooCommerce.com
---
WooCommerce Quick View Extension: Why You Need ItExtra clicks can be extra frustrating for customers. Help them find the information they need more quickly with the WooCommerce Quick View Extension.The WooCommerce Quick View Extension adds a 'quick view' button to product loops. When the customer clicks the button, a lightbox will show the product details.The lightbox will include the following information:Main featured imageTitlePriceShort descriptionView buttonCart buttons
---
Buy Now============================================You'll get a download link immediately after purchase============================================Lower price.You'll Receive Original Product.We Purchase And Download From Original Authors.You'll Receive Untouched And Unmodified Files.Original files without malware, viruses, or advertising.All products work on an unlimited number of websites (domains) (unlimited license).All products are available by direct links.Product Last Updated.Download WooCommerce Quick View.You'll receive the exact .zip file you would download from the original author. If you buy from here, you can save your money up to 99% and 100% virus free.Viewhttps://woocommerce.com/products/woocommerce-quick-view/
You'll get a 9.6KB .ZIP file.
More products from WooCommerce Plugins Extensions