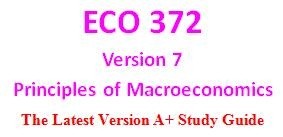 ECO 372 Week 1 Product Selection For Week 2 Individual Assignment
**********************************************************
ECO 372 Entire Course Link
https://uopcourses.com/category/eco-372/
Contact Info:
[email protected]
**********************************************************
ECO 372 Week 1 Product Selection For Week 2 Individual Assignment
In Week 2, you will be writing a paper based on the following:
You've been debating on making a purchase for yourself. This is a product you've wanted for a while, but one that requires budgeting because you will be making monthly payments.
Select a product in which the demand for the product is clearly affected by the strength or weakness of the overall economy such as new homes, cars, appliances, smart phones, etc. Make sure this is something of sufficient value to require budgeting and making payments.
Submit your product selection to here as an attachment (Does not need APA Formatting) for approval no later than the end of Week 1. You earn 1 point for submission. Approval or redirection will seen in the response to this 1 point assignment.
You'll get 1 file (38.7KB)