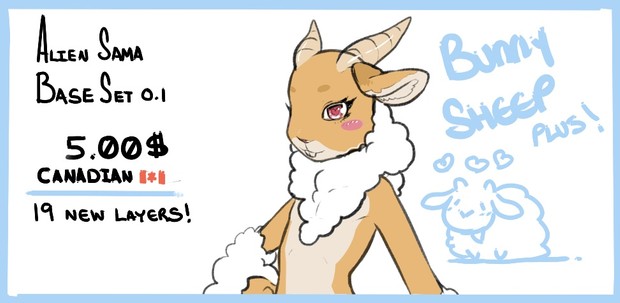 Bunny Sheep Plus
YOU NEED BASE 0.1 TO USE  
https://sellfy.com/p/Czn6/
⠀⠀⠀⠀⠀► All you have to do is Credit any content made with these bases to me DerFuhrer~ and link back to this submission.
⠀⠀⠀⠀⠀► You may mix and match other bases you have bought from other people.
⠀⠀⠀⠀⠀► Once purchased your name will go into master list of customers. Do not redistributed the files.
⠀⠀⠀⠀⠀
⠀⠀⠀⠀⠀FOR COMMERCIAL PURPOSES:
⠀⠀⠀⠀⠀
⠀⠀⠀⠀⠀If you plan to make Adoptables or OC that will be sold, you may go over the original price.
⠀⠀⠀⠀⠀You must continue to credit as well as the people who buy the OC / adopt, but credit back to me.
You'll get 1 file (927.0KB)
More products from Alien Sama Bases