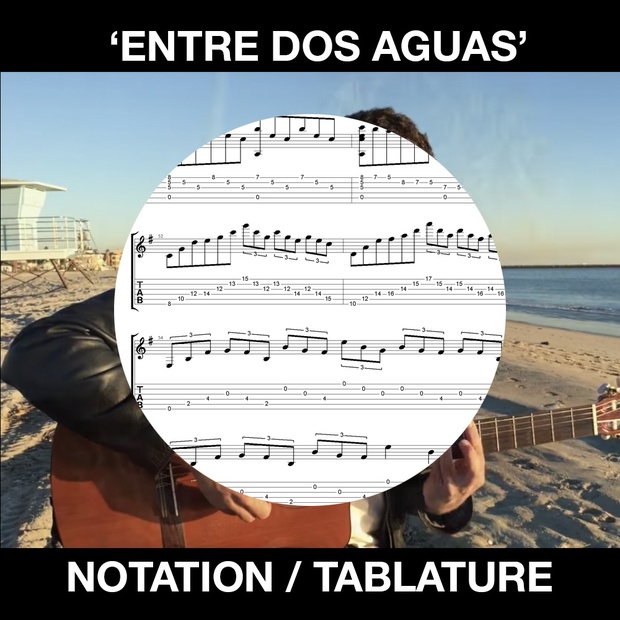 Entre dos Aguas (Paco de Lucia) - FOR SOLO GUITAR - Tabs and Notation
Download contains the sheet music in notation and tablature, the MP3, and the GuitarPro6 file. 
This is a solo guitar arrangement of maestro Paco de Lucia's classic piece 'Entre dos Aguas' and a tribute to the maestro Paco de Lucia, the most complete guitarist that ever was. This is my arrangement of the song for solo guitar, not a note-for-note transcription of it.
This is an iconic piece written by the maestro Paco de Lucia in 1973 and is the song that not only catapulted his career, but also created global appeal to Flamenco music as a genre.
These days it's considered a standard among Flamenco and Nuevo Flamenco guitarists, but to my knowledge has NEVER been done as a solo guitar arrangement (always with 2 guitars or with a band). I have not even found any footage of Paco himself playing it as a solo arrangement, which I'm sure if he did it would've been fantastic! This was a huge challenge for me to first just learn and play a song by the maestro, but then to create a solo guitar arrangement of it that includes the famous melodies, runs and bass lines at the same time, and then of course to write it out in standard music notation and tablature.
Hint: when learning this piece, first learn and memorize the notes with the sheet music/tabs provided, then watch the video in youtube and click on the gear icon in the bottom right corner of the player - got to speed - adjust to .5 and play along at half-speed. The pitch doesn't change, it only slows it down. Then you will be on your way.
More on Ben Woods at
http://www.spanishguitarplayer.com
You'll get 1 file (5.4MB)
More products from Ben Woods