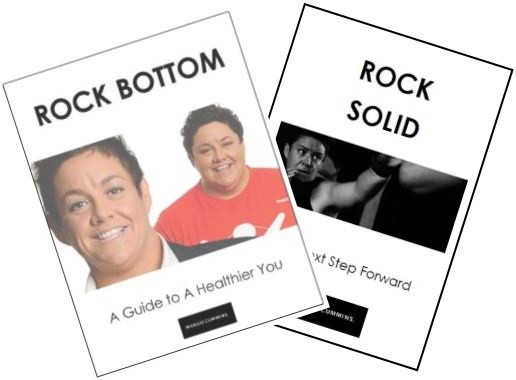 Rock Your Weight Loss Package
This package gives you both of Margie's successful weight loss plans – Rock Bottom AND Rock Solid. Together, these two eBooks give you the tools to see you achieve your weight loss goals.

– ROCK BOTTOM – 

Rock Bottom provides information about weight loss, weight loss success stories and a set plan to help you lose weight quickly.  Released in early Feb 2014, Rock Bottom hit the ground running, selling 1000's of copies. Of those who registered their weekly weight loss, the group lost just over 4500kg! That's a lot of weight shifted! We have helped many transform their lives, becoming healthy, happy & confident individuals.

The SET core plan is based on fresh foods, fruit and vegetables, involves minimal preparation, which leaves you more time for the important things, like….. living!!  With 3 different ways to use the core plan, it is incredibly flexible and family friendly.  Buyers of the eBook also can ask to join to our private support group. We feel this is an essential part of successful weight loss.

There is no registering. Not waiting for rounds. No ongoing costs. 

– ROCK SOLID – 

Rock Solid is the follow on eBook, designed as the next step you take after following the hugely successful 4-week plan, Rock Bottom. We have increased the calories per day, following along the lines of a set plan, but slightly different.

We understand that many want to take a day off to enjoy the finer things in life, so we have added cheat meal recipes, allowing you to indulge for breakfast, lunch and dinner on that special cheat day! We have also teamed up with Jared King, from Drive Fitness in Brisbane, to create a basic training plan, to help get you off the couch and become active!

Life is far too short to spend it laying around. It's time to whack on the shoes and start pounding the pavement.
You'll get 1 file (4.6MB)
More products from Margie Cummins