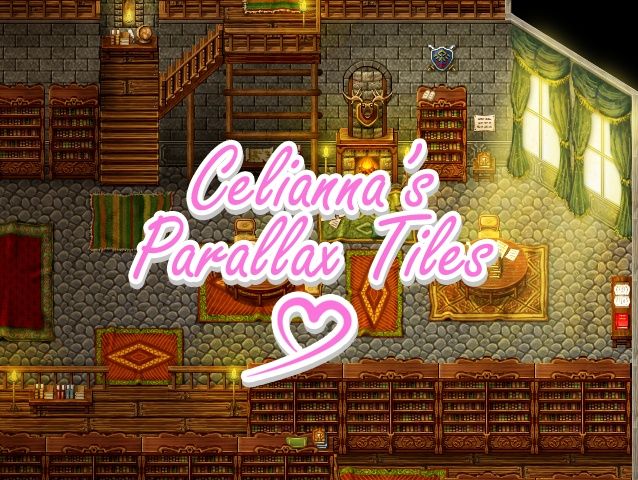 Celianna's Parallax Tiles V. 1.0
Celianna's Parallax Tiles is a compilation of a bunch of tiles I've created for RPG Maker. While you can buy each tileset individually, it's pricier, and therefor I've come up with a discount if you buy them all in bulk. The original price will drop from a whopping €1030 to €350, so it's a steal! It includes these tiles:

Interior Tiles:
• Interior Walls • Castle Tiles • Library Tiles • Furniture Tiles • Bakery Tiles • School Tiles • Carpentry Tiles • Tavern Tiles • Mansion Tiles • Orchestra Tiles • Priston & Torture Tiles • Thieves Lair

Exterior tiles: • Trees 1 • Trees 2 • Trees 3 • Trees 4 • Nature Tiles • Cutesy Tiles • Mana Tree • Farm Tiles • Old Farm Tiles • Castles • Medieval Buildings • Medieval Houses • Japanese Buildings • Tipis • Huts • Temple Tiles • Doors • Ship Tiles • Golden Temple Tiles • Rapunzel Tower

Note: only to be used in RPG Maker VX, RPG Maker VX Ace, or any other RPG Maker if you also own VX, or VX Ace.
You'll get a 14.4MB .RAR file.
I want to get 50% off
You will receive a 50% discount if you share this product on social media. The discount will be automatically applied to your purchase.
Tweet
Looks like you are using AdBlock. And it's blocking the social sharing functionality on this page. To receive the discount, please disable AdBlock on Sellfy.
I'd rather pay the full price
Buy Now
Purchase the product without sharing it on social media. Your download will begin immediately after payment.