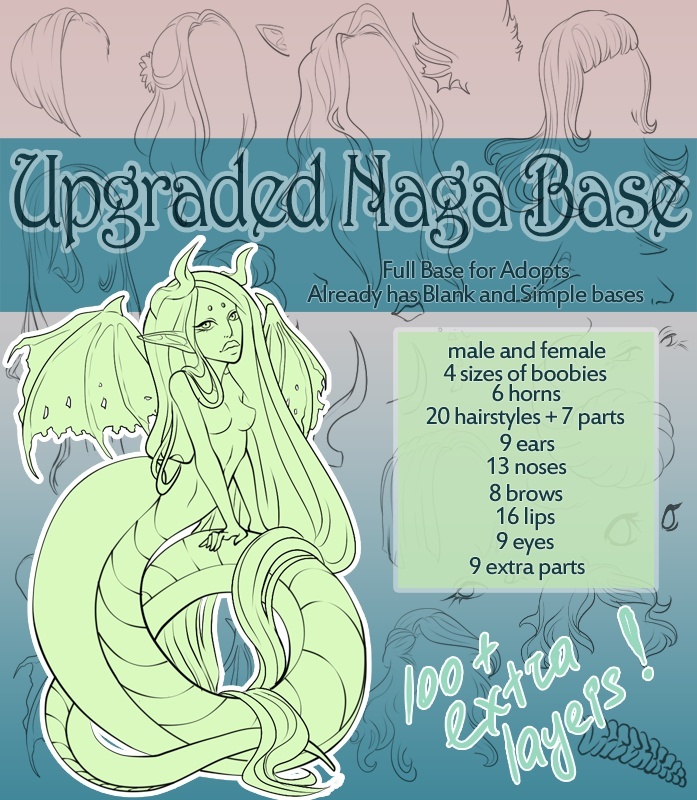 [P2U] Naga Upgraded Base - Biggest base!
This base was created by me and my friend-artist. The funds will be split 50/50 to me and my friend.

Attention! This base ALREADY HAS Simple naga base and Male and Female Naga bases. So you don`t need to buy those bases too, you can buy only this one.

--+Content+--
+ male and female base lines;
+ 4 sizes of female boobies (with nipples-layers)
+ 6 types of horns;
+ 20 hair layers + 7 parts (bangs+haircuts);
+ 9 ears;
+ 46 face elements (eyes, noses, etc);
+ 9 extra parts (1wings, tail types)

Attention!
In future there will be:
+ cloth pack for this base;
+ extra hairstyles.

Download includes
+ .psd file 666x1000

~Rules~
You can edit the base and add Accessories.
You can make Adoptable/Ref/characters/comissions for USD or points!
Credit me back please and link for others to buy the base. Thank you!
x Don`t resell or redistribute to anyone.
x Don`t claim as your own.
x Don`t trace or copy the base, please.
You'll get a 3.0MB .PSD file.
More products from Xaineko