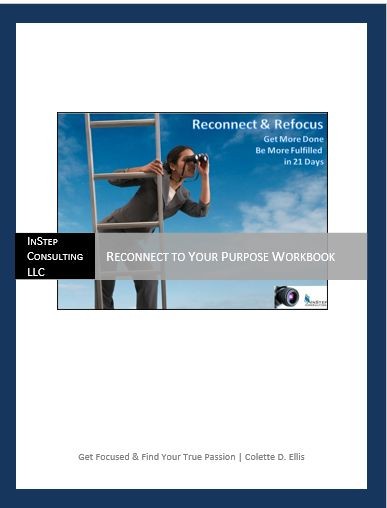 Reconnect & Refocus: Get More Done & Be More Fulfilled in 21 Days
Reconnect to Your Purpose Workbook: 32-page guide written by Coach Colette Ellis with self-paced exercises designed to lead you through a self-exploration journey that inspires you to uncover your true passions and intentions.
Despite the hectic pace and all of your competing demands … what if you could be more productive AND fulfilled in 21-days?
What if it were possible for you to approach your personal and professional responsibilities with excitement and enthusiasm instead of fear, pressure, or regret?
The Reconnect to Your Purpose workbook will change your perception of time, help you get rid of unwanted distractions, be more productive, and feel more satisfied as you:
Discover how you REALLY spend your time so you can reclaim more control over your schedule and get more done in less time
Reveal your true intentions so you can refocus your attention on what's most important and renew your enthusiasm for life
Find out what's at the source of your uncertainty so you can reduce anxiety, make decisions faster, and stop procrastinating
Eliminate clutter and distractions so you can achieve your goals faster and plan ahead for the future
About the Author
Colette Ellis is an author, executive coach, and motivational speaker who empowers clients to get "instep" with their health so they can focus on what's most important. Her book, Focus on Your Vision, presents an easy, 4-step process to help readers achieve greater work-life balance. With over 10 years experience helping visionaries deal with change, she creates a safe space for clients to explore new opportunities without compromising their values. She is certified in 7 Habits of Highly Effective People®, FOCUS: Achieving Your Highest Priorities, and Coping with Work & Family Stress™, a research-based wellness curriculum. As founder of InStep Consulting, Colette guides entrepreneurs how to transform their lives and realize results faster through insightful coaching and interactive seminars on leadership and employee wellness. A featured
eHow.com
contributor on Workplace Morale, her tips and advice have appeared in Real Simple Magazine and online at
CBSNews.com
and
CNN.com
.
You'll get 1 file (1.3MB)
More products from Coach Colette