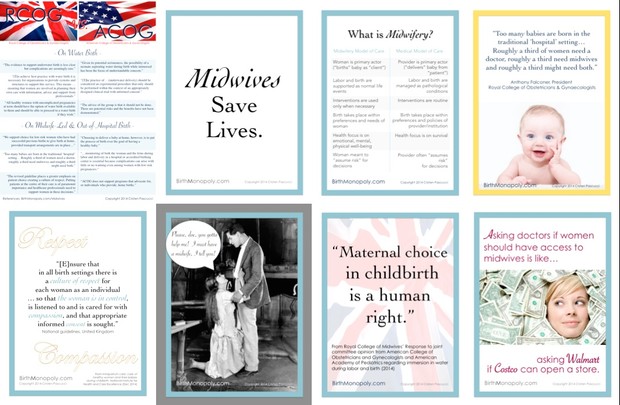 "Why Are We Asking Doctors...?" article & "extras"
This packet includes eight, 8.5"x11" flyers for Birth Monopoly's newest article "Why Are We Asking Doctors If Women Should Have Midwives?" (read it now at
www.birthmonopoly.com/midwives)
, as well as two printable versions of the article itself, for you to share! I encourage you to share the "professional" version of the article with legislators, policy makers, colleagues, friends, and family members!
The handouts include:
- "What is midwifery?"
- RCOG (U.K.'s Royal College of Ob/Gyns) vs. ACOG (U.S.' American College of Ob/Gyns) in their own words, on water birth, midwifery care, and out-of-hospital birth
- "Asking doctors if women should have midwives is like asking Walmart if Costco can open a store."
- "Maternal choice is a human right." (Royal College of Midwives)
- "Please doc, you gotta help me! I must have a midwife, I tell you!"
- "Too many babies are born in the traditional 'hospital' setting..." (President Anthony Falconer of the Royal College of Obstetricians & Gynaecologists)
- "Midwives Save Lives."
- "Respect & Compassion" from current U.K. guidelines on care of healthy women and their babies in childbirth
There's room for your logo on each flyer! Feel free to put your own mark on these for use with clients.
ENJOY!
Cristen
www.birthmonopoly.com
You'll get 1 file (2.0MB)
More products from Cristen Pascucci