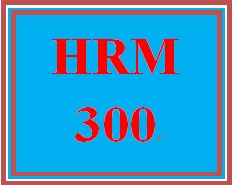 HRM 300 Week 3 New Hire Acceptance Letter
Entire Course Link
https://zh.scribd.com/document/340327850/Uop-Tutorial
 HRM 300 Week 3 New Hire Acceptance Letter 
Review the Maintenance Technician/Janitor resumes.
Select as a team, the best candidate for the job.
Create a 700- to 900-word new hire acceptance letter to send to the candidate.
Outline the following in your letter: (use standard business letter format – not APA – see library sample)    
Introduction/welcome  
Title, monthly annualized pay, start date, location, and report  time.  
Exempt or non-exempt status – with explanation  
Working hours, days and potential overtime requirements  
Benefits summary, conditions and start dates of benefits  
Paid Time off (PTO) plan  
Orientation – socialization program and schedule  
At Will statement  
Closing  
Signature block for new hire  
Use LEE version of grading guide
Whole team must do final proofing before submittal
Click on the Assignment Files tab to submit your letter.
You'll get a 77.4KB .ZIP file.