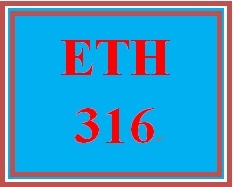 ETH 316 Week 2 Cultural Diversity in the Workplace
Entire Course Link
https://zh.scribd.com/document/340327850/Uop-Tutorial
 ETH 316 Week 2 Cultural Diversity in the Workplace 
This week's readings focus on cultural ethics and the issue of cultural diversity in the workplace.
Imagine you and your Learning Team members are a part of an organization considering diversity training.
Create a 10- to 12-slide Microsoft® PowerPoint® presentation in which you assert the importance of cultural diversity training as it relates to the ethics and fairness of the company.
Use the readings from this week as sources to develop a presentation that both overviews the importance of cultural awareness and what kinds of training would be important.
Include images, as appropriate.
Format your assignment according to appropriate course-level APA guidelines.
Submit your assignment to the Assignment Files tab.
You'll get a 274.9KB .PPTX file.