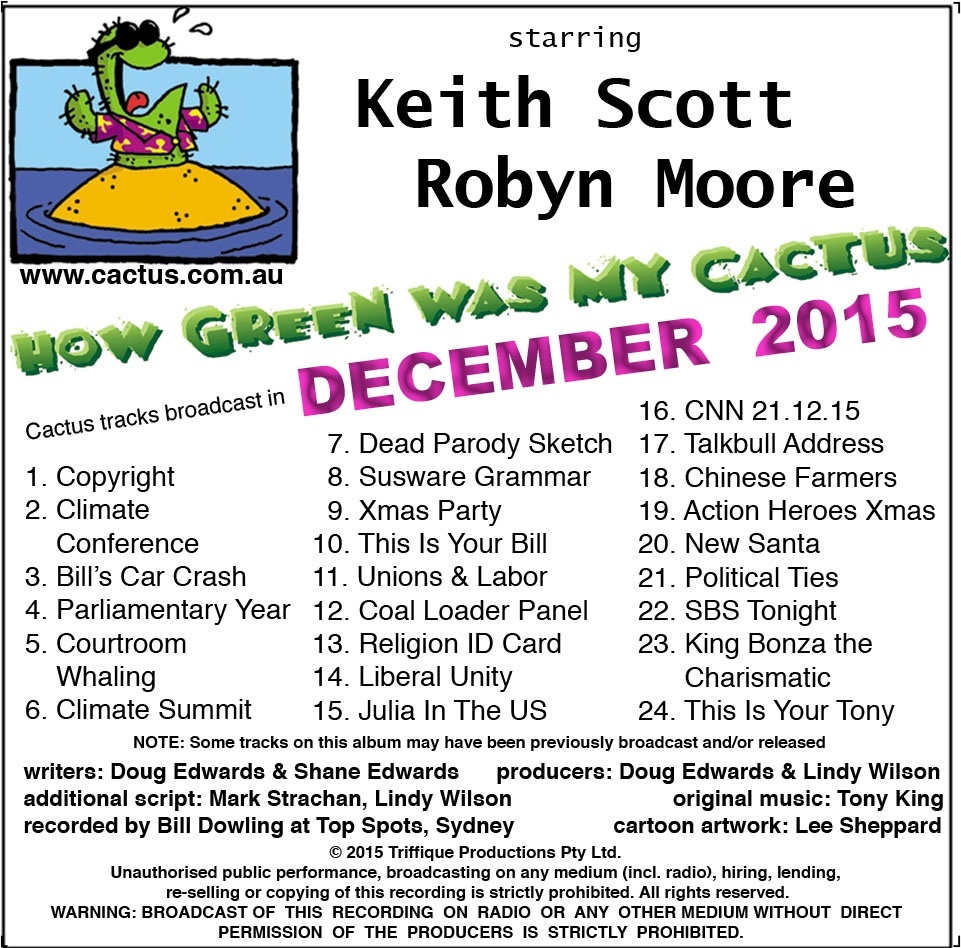 CACTUS - December 2015 (all tracks)
DESCRIPTION NOTE: TRACKS ON THIS ALBUM MAY HAVE BEEN PREVIOUSLY BROADCAST AND/OR RELEASED. CACTUS DECEMBER 2015 TRACKS 1. Copyright: All material downloaded is copyright.Unauthorised public performance,broadcasting on any medium (including. radio),hiring,lending,re-selling or copying of this recording is strictly prohibited.All rights reserved. ©2015 Triffique Productions Pty Ltd 2. CLIMATE CONFERENCE: Chancellor Dangela Merkin reveals that Germany is now so hot that she can cook pork knuckles in her lederhosen. 3. BILL'S CAR CRASH: Flopposition leader Bill Curly crashes the Labor Party machine. It's a clue to Bill's popularity that all the airbags went off except his.  4. PARLIAMENTARY YEAR: Big Gazza Roidman wraps up the year in the Parliamentary House of Pain. The Coalition Bluebloods finished ahead of the Labor Lemmings, and a distant third were the Green Party Crimson Banded Northern Skinks. 5. COURTROOM WHALING: The captain of a Japanese 16-harpoon pleasure cruiser, The Prince of Whales, demands that Judge Cranky hang the captain of a Greenpeace protest boat for interrupting his scientific studies. 6. CLIMATE SUMMIT: At the climate crisis talks in Paris, the British PM reveals that England is so hot that the Queen may soon be forced to take off her gloves. 7. DEAD PARODY SKETCH: Treasurer Blot Morrison complains about a recent purchase, a Hockey economy, which appears to be dead and nailed to its perch. He is assured it's only resting. 8. SUSWARE GRAMMAR: Hey parents! Want a Private School education for your child at a Public School price? Then don't delay! You need Susware Grammar's fully paid professionals! 9. XMAS PARTY: At the end of year party, the Labor MPs dress their leader Bill Curly as the Christmas tree. They think that coloured lights and bright baubles are the only way he'll attract anyone. 10. THIS IS YOUR BILL: Labor leader Bill Curly appears on This Is Your Life, recounting how he was fired from his first job in an accounting firm because he was too boring. 11. UNIONS & LABOR: Laborites Tanya Plibersexy and Doug McDoug tell their leader Bill Curly that links with the union movement are damaging the Party. But Bill isn't listening, he's on a smoko.          12. COAL LOADER PANEL: A new giant coal loader may endanger the Great Barrier Reef, but senator Jacquie Tacky is in favour of the Reef's destruction so the Chinese can't hide behind it when they invade. 13. RELIGION ID CARD: Brothers and sisters! You can now cut your chances of getting caught in terrorist crossfire with the Church of Eternal Discretion Dual-Religion ID Card! Hallelujah! 14. LIBERAL UNITY: Malcolm Talkbull convenes a meeting of his Liberal Party to re-establish unity. It's a very successful strategy...apart from the barrage of shoes in Mal's face. 15. JULIA IN THE US: Ex-PM Julia Buzz-ard's autobiography reveals all about her first meeting with US President Barack O'Bummer and a night of romance with a certain media tycoon called Rupert. 16. CNN 21.12.15: Big Gazza Roidman reveals the West Indies cricket team to be so hopeless that fans are calling for performance enhancing drugs to be legalised. 17. TALKBULL ADDRESS: The National CEO Malcolm Talkbull regails us with stories of his past, like hiring out the Taj Mahal for a Hawaiin party on his 50th birthday.  18. CHINESE FARMERS: National Party leader Warren Someone and Barnaby Joh worry about farmland falling into Chinese hands. It's the biggest crisis to hit the bush since the CWA cookbook went metric.  19. ACTION HEROES XMAS: Radio talkback agony uncles Arnie and Sly discuss whether Christmas celebrations offend other religions. Sly insists that the right to bear Christmas trees was what the Vietnam War was all about.  20. NEW SANTA: The problems of a changing world, like financial crises and global warming, have forced Santa to cancel gift deliveries for this Christmas. But Santa comes up with a truly modern solution.  21. POLITICAL TIES: Derryn Livershot notices that Liberal MPs no longer all wear blue ties and Labor MPs have stopped wearing red ties. Has maturity broken out on both sides of politics. 22. SBS TONIGHT: Lip Lip Chin presents tonight's SBS World News, to be followed by a comedy movie from the Taliban, Carry On Backwards. 23. KING BONZA the CHARISMATIC: It's 1994, three years after Bob Hawke, alias the Silver Bodgie, left office. Bob is on the road to flog his autobiography, My Years As A Living God.  24. THIS IS YOUR TONY: PM Tony Abs appears on This Is Your Life. Born in London, Tony was soon ordered to leave England by Queen Bessie of Buckinghuge Palace because he gave whinging poms a bad name. Copyright: All tracks and material ©2015 Triffique Productions Pty Ltd. All rights reserved. All material downloaded is copyright. Unauthorised public performance, broadcasting on any medium (including. radio), hiring, lending, re-selling or copying of this recording is strictly prohibited. All rights reserved.
You'll get a 46.7MB .ZIP file.
More products from doug_e