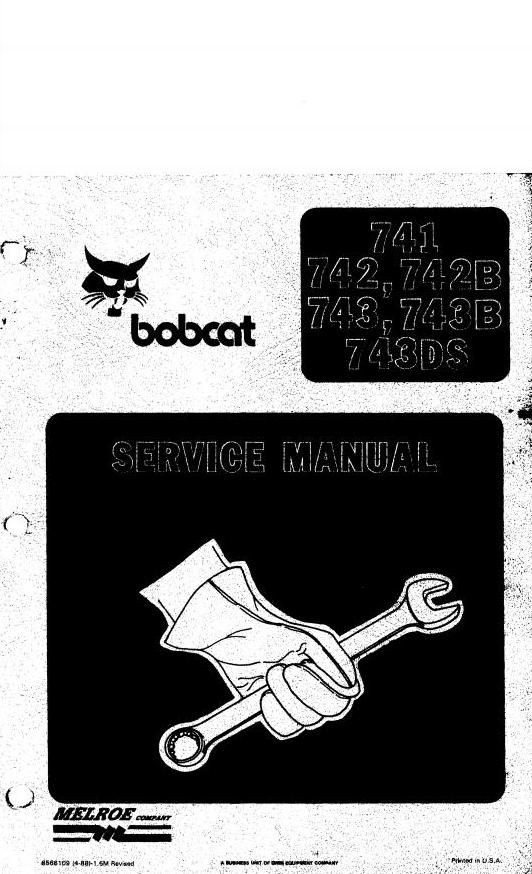 Bobcat Skid Steer Loader Type 741, 742, 742B, 743, 743B, 743DS Workshop Service Manual
Original Illustrated Factory Workshop Service Manual for Bobcat Skid Steer Loader Type 74x.
Original factory manuals for BobCat Loaders, contains high quality images, circuit diagrams and instructions to help you to operate, maintenance and repair your truck. All Manuals Printable, contains Searchable Text and Navigation Bookmarks. No expire date and restrictions.

Covered models:
741
742
742B
743
743B
743DS

Format: PDF, 432 Pages
Language: English

Contents:
SAFETY INSTRUCTIONS
SERIAL NUMBER LOCATIONS
DELIVERY REPORT
APPROVED USE OF 743 DS BOBCAT LOADER
BOBCAT LOADER IDENTIFICATION
PREVENTIVE MAINTENANCE
HYDRAULIC SYSTEM
HYDROSTATIC SySTEM
DRIVE SySTEM
MAIN FRAME
ELECTRICAL SySTEM
ENGINE SERVICE
SPECIFICATIONS .
You'll get 1 file (28.8MB)