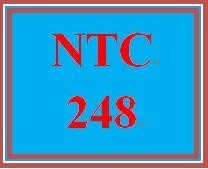 NTC 248 Week 1 Individual: Cables and Connectors and Networking Devices
Entire Course Download Link
https://uopcourses.com/category/ntc-248/
 NTC 248 Week 1 Individual: Cables and Connectors and Networking Devices 
Complete the following sections of the LabSim® TestOut course "Network Pro":   
2.0 "Cables and Connectors"    
2.1 "Twisted Pair"  
2.2 "Coaxial"  
2.3 "Fiber Optic"     
3.0 "Networking Devices"    
3.1 "Network Adapters"  
3.2 "Network Devices"  
3.3 "Internetwork Devices"     
Capture a copy of your results for EACH lab, either by print screen or a snipping tool.
Save your images from the completion of EACH lab to a Microsoft® Word document using the following naming convention: FirstnameLastname_Lab1.doc.
Write a 1/4-page summary identifying areas for improvement and your plan on how to improve.
Submit your results using the Assignment Files tab above.
You'll get 1 file (48.5KB)