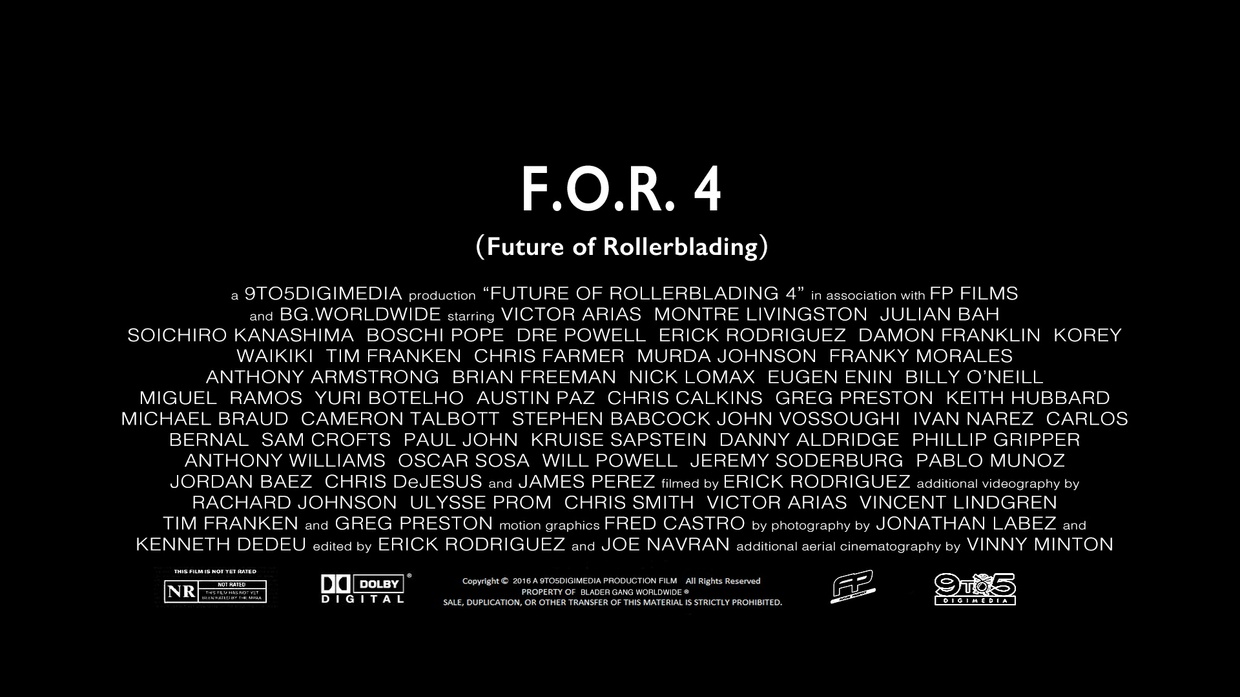 F.O.R. 4
9TO5DigiMedia and FP Films is proud to present the 4th installment of the "Future of Rollerblading" series. We were able to film with some of the most legendary bladers in the game along with some of the new generation of shredders in NYC, California, Atlanta, North Carolina, Las Vegas, and Spain.

Features :
- Full length video (31 min.)
- Soichiro Kanashima Bonus Section
- PDF Photo Zine
- Soundtrack

Starring :
Vsictor Arias,  Monrte Livingston, Julian Bah, Soichiro Kanashima, Boschi Pope, Dre Pwell, Erick Rodriguez, Damon Franklin, Korey Waikiki, Tim Franken, Chris Framer, Mike Murda Johnson, Franky Morales, Anthony Armsrong,
Brian Freeman, Nick Lomax, Eugen Enin, Billy Oniel, Miguel Ramos,
Yuri Botelho, Austin Paz, Nick Lomax, Greg Preston, Keith Hubbard,
Michael Braud,Cameron Tallbot, Stephen Babcock, John Vossouchi,
Ivan Narez, Carlos Bernal, Sam Crofts, Paul John, Kruise Sapstein,
DannyAldridge, Phillip Gripper, Anthony Williams, Oscar Sosa, Will Powell, Jeremy Soderburg, and Pablo Munoz. Filmed by Erick Rodriguez additional videography by Rachard Johnson, Ulysse Prom, Chris Smith, Victor Arias, Vincent Lindgren, Tim Franken, and Greg Preston, motion graphics Fred Castro, by photography by Jonathan Labez, and Kenneth Dedeu edited by
Erick Rodriguez and Joe Navran additional aerial cinematography by
Vinny Minton.
You'll get a 1.6GB .ZIP file.
More products from 9TO5DigiMedia