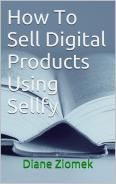 How To Sell Digital Products Using Sellfy
Authors worldwide have heard of (and most likely utilized) services such as Kindle, Kobo, Smashwords and iBook. The majority of books published today are published in digital form; whether it be via a publishing house or self-publishing.

With that being said, did you know that Sellfy is a platform used for more than just eBooks? Any digital file (within the capacity parameters) may be uploaded and sold on Sellfy: all you need to do is sign up and you're on your way. The digital files are not limited to eBooks: audio, video, website templates and games may all be uploaded and sold.

"How To Sell Digital Products Using Sellfy" was written to not only help authors and other digital medium creators, but to let the world know about the platform. It was written after a search revealed there weren't any books on the subject. If books can be written about Facebook, Twitter, Pinterest and the like, then why not Sellfy? If you have digital content you have created (or have the right to sell), then give Sellfy a try. Your first sale will cover what you paid for this book; the rest is pure profit.
You'll get a 72.3KB .PDF file.
More products from Diane Ziomek