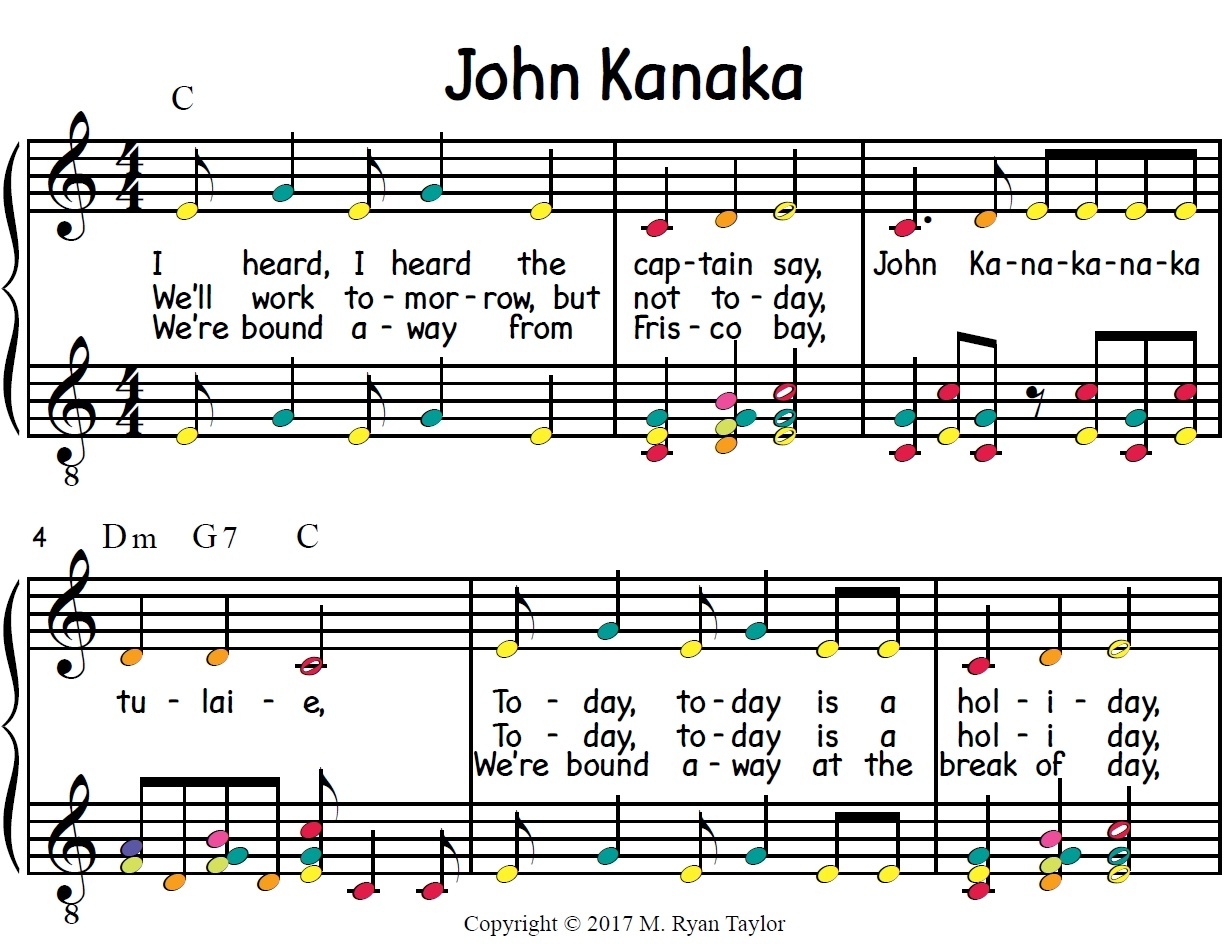 19 Songs Kid's Love for 2-Octave Diatonic Boomwhackers - Complete
19 Songs Kid's Love for 2-Octave Diatonic Boomwhackers: This collection of easy to intermediate arrangements for Boomwhackers is intended to be used with a standard diatonic C-scale set on the top staff and a second set with octavator caps (or the larger, lower-octave set) playing the bottom staff. Two sets in the same octave may be used, but the melody will not be as transparent.
Other ways to use this collection:


Sing the top staff and use the bottom staff as an accompaniment.


Double the top staff with any instrument in C tuning (non-transposing).


Add fretted instruments such as ukulele or guitar, strumming the chords indicated.


Improvise rhythmic ostinati as part of the accompaniment on a wide variety of hand percussion.


Difficulty may be adjusted by leaving out the bottom staff of most of the arrangements and just playing the melody.


Activities and ideas for rehearsal:


Singing SolFa on the Melody to learn the tune


Rhythm Work on tricky rhythms


Singing melody with Rhythmic Ostinato


Singing melody with Chords (teach chord groups first)


Singing with Chords in Rhythmic Ostinato


Melodic Boomwhackers


2nd Staff Boomwhackers


Sing with 2nd Staff


2-part Boomwhackers


2-part Boomwhackers with Vocals


Add Percussion


Contents:


Chumbara (Can Can)


Drunken Sailor


Four White Horses


Freedom Train


Frog Song


He's Got the Whole World


John Kanaka


Kookaburra


Land of the Silver Birch


My Paddle's Keen and Bright


Ode to Joy


One Bottle of Pop


One May Begin


Pay Me My Money Down


Poor Little Kitty Cat


Row, Row, Row Your Boat


Three Blind Mice


Twinkle, Twinkle Little Star


Where, Oh, Where Has My Little Dog Gone?


IMPORTANT NOTE on Printing: This book has been formatted with thin margins in landscape format for use with projectors. If you wish to print the book, please be sure to select 'landscape' for your printer and select 'Fit to Printable Area' under 'Page Scaling' in Acrobat Reader. As many of the songs are on 2 pages, double-sided printing is not recommended. If you are using a different PDF viewer, other than Acrobat, please find the appropriate settings to adjust for printing.
You'll get a 767.2KB .PDF file.