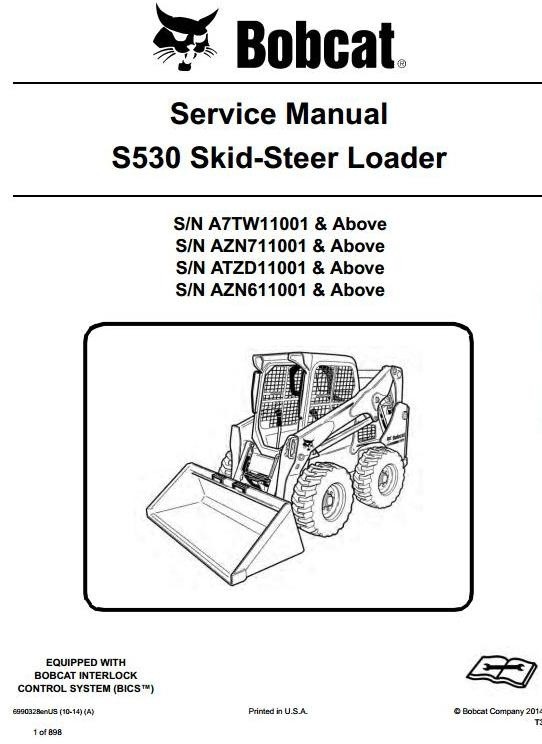 Bobcat Skid Steer Loader S530: S/N A7TW/ATZD/AZN6/AZN7 11001 & Up Workshop Service Manual
Original Illustrated Factory Workshop Service Manual for Bobcat Skid Steer Loader Type S530. 
Original factory manuals for BobCat Loaders, contains high quality images, circuit diagrams and instructions to help you to operate, maintenance and repair your truck. All Manuals Printable, contains Searchable Text and Navigation Bookmarks. No expire date and restrictions.
 
Covered models:
    S/N A7TW11001 & Above
    S/N ATZD11001 & Above
    S/N AZN611001 & Above
    S/N AZN711001 & Above
 
Format: PDF, 898 Pages
Language: English
 
Contents:
    FOREWORD 
    SAFETY INSTRUCTIONS 
    FIRE PREVENTION 
        Maintenance 
        Operation 
        Electrical 
        Hydraulic System 
        Fueling 
        Starting 
        Spark Arrester Exhaust System 
        Welding And Grinding 
        Fire Extinguishers 
    SERIAL NUMBER LOCATIONS 
        Loader Serial Number 
        Engine Serial Number 
    DELIVERY REPORT 
    LOADER IDENTIFICATION .
    SAFETY AND MAINTENANCE 
    HYDRAULIC SYSTEM 
    HYDROSTATIC SYSTEM 
    DRIVE SYSTEM 
    MAINFRAME 
    ELECTRICAL SYSTEM AND ANALYSIS 
    ENGINE SERVICE 
    HEATING AND VENTILATION 
    SPECIFICATIONS 
    ALPHABETICAL INDEX .
You'll get 1 file (31.9MB)