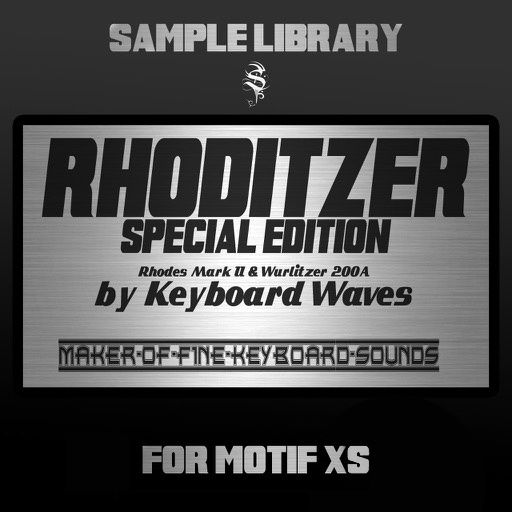 "Rhoditzer" Special Edition converted for XS
"Rhoditzer" Special Edition For Motif XS Many users of the MOTIF XS wrote me to convert the new samples of "Rhoditzer" Special Edition although some sounds would not have the GTR FX. Since the update 1.5 of MOTIF XF, the FX generator has the GTR FX which is not present in the MOTIF XS. So, some voices, produced with this effect, should not be totally restored. This "converted" version for the Motif XS is above all, made to have the new "extended" samples. This library consists of 80 new user voices, utilizing over 450 Mo of new vintage electric keyboard samples. This library requires an optional flashboard installed on Motif XF. These voices are not only a mix of two collections "Rhodes Mark II" & "Wurlitzer 200a" by KeyboardWaves. All original samples were all « re-looped » and have a long natural sustain. All Waveforms are in 44,1Khz Now. Starting patchs were completely reworked to improve the similarity with the originals. Furthermore, against 8 voices, the collection has got 80 voices now. You can also play with the Rhoditzer a «hybrid» electric piano. Each voice was carefully edited to provide realism ever seen. The velocity (the key of realism) has been worked enormously. I recommend also to change the motif velocity curve to "hard" via the utility menu to approximate the same sensations as on older keyboards. -Each note has got a release sound («key off») on part4. -Sustain is extended. -High notes (from LA6) of Wurlitzer haven't damper. CONTROLLERS (for most voices) Assign1 potentiometer recreates the old potentiometers FX : BASS BOOST for Rhodes & VIBRATO for Wurlitzer. Assign2 potentiometer «boost» high frequency for clean bell sound. - Modulation Wheel (MW) send to Chorus FX. - Ribbon send to Reverb FX.
You'll get a 331.0MB .ZIP file.
More products from Keyboard Waves