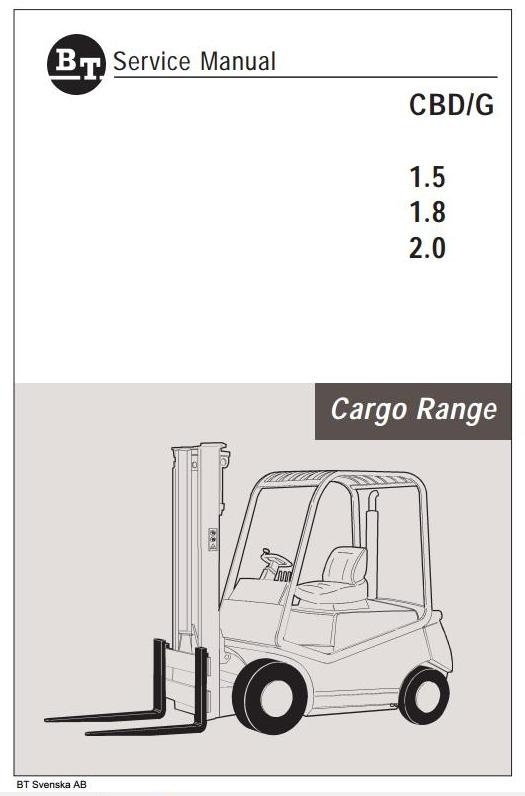 BT Cargo Range Forklift Truck CBD 1.5, CBD 1.8, CBD 2.0, CBG 1.5, CBG 1.8, CBG 2.0 Service Manual
Original Illustrated Factory Workshop Service Manual for BT Cargo Range Forklift Truck Type CBD, CBG.

Original factory manuals for BT Forclift Trucks, contains high quality images, circuit diagrams and instructions to help you to operate, maintenance and repair your truck. All Manuals Printable, contains Searchable Text and Navigation Bookmarks

Covered models:
CBD 1.5
CBD 1.8
CBD 2.0
CBG 1.5
CBG 1.8
CBG 2.0

Format: PDF, 79 Pages
Language: English

Contents:
DATA SHEET
OPERATOR'S SEAT
Pedals
Drive direction lever
Balanced pedal system
Dashboard
Dashboard indicator
Parking switch
Lever unit
Load plates
Identification plate
LIFTING ACCELERATOR DEVICE
ENGINE FEATURES
Topping up with coolant
Air filter
Cylone prefilter
Engine running-in
HYDROSTATIC TRANSMISSION
Example of circuit hydraulic transmission
Operative description of the variable capacity pump
Description of the main functions
Hydraulic diagram
ADJUSTMENTS VALUE
Hydrostatic transmission
Starting point
Engine R.P.Munder load
Release braking
Cut-off valve
TRACTION,BRAKE/INCHING AND LIFTING DEVICE
Mechanic control version(CONTINENTAL)
Hydraulic control version(KUBOTA)
Adjusting the hydraulic accelerator
Adjusting the accelerator pedal
Hoisting hydraulic accelerator
RADIAL HYDRAULIC MOTORS
HYDROSTATIC TRANSMISSION OIL/FILTERS
HYDROSTATIC TRANSMISSION TROUBLE SHOOTING
Towing the truck
BRAKES
Diagram of the brake system
Brake control
Brake unlocking
ELECTRIC SYSTEM
Battery
Electric components
Electrical diagram(CONTINENTAL/KUBOTA
STEERING CONTROL
Power steering hydraulic control
Steering axle
Bearing adjustment
CONTROL VALVE
Control valve diagram
MAST GROUP
Duplex mast
Triplex mast
Description of the cylinder components
Cylinder checking methods
Lubrification of lifting equipment
Mast chains
Forks
LIFTING OF THE TRUCK
L.P.GSYSTEM
LPG bottle
INITIAL TIMING ADJUSTMENT
OIL- GREASE - COOLANT
MAINTENANCE TIMES TABLE .
You'll get a 5.6MB .PDF file.