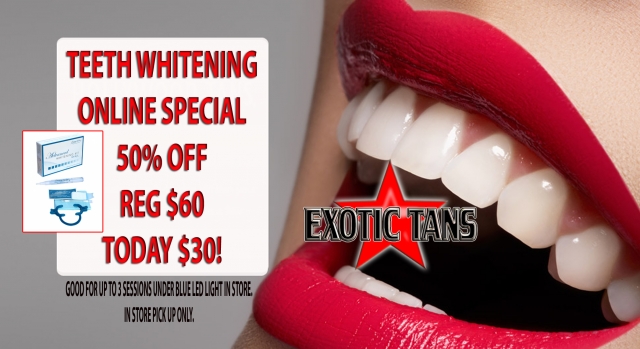 50% OFF TEETH WHITENING AT EXOTIC TANS
SERVICE AVAILABLE AT EXOTIC TANS WARWICK, EAST GREENWICH, NORTH KINGSTOWN,JOHNSTON HARTFORD AVE,N. PROVIDENCE, LINCOLN, SEEKONK MA.
Advanced Whitening Kit™
natural whitening gel

Over 95% of our non-dentist customers who have tried it prefer it over any other teeth whitening kit in the market. Service providers rave about the results, and they have the most satisfied customers in the teeth whitening industry. We invented and have perfected the paint-on whitening system, and we guarantee that the Advanced Whitening Kit™ gives the best results in the market.

What makes the Advanced Whitening Kit™ special is that it has all the best attributes of every possible teeth whitening kit. Because it uses no mouth tray, it comes with the strongest gel (16% hydrogen peroxide) that can be used without a gingival barrier (gum protector). If you put this gel in a mouth tray, most customers will get gum irritation because some of the gel always gets pushed up onto the gums. A mouth tray, even one with lip rests like ours, requires that the customer be forcing a smile during the procedure, which is tiring and sometimes painful. That's why using a cheek retractor that keeps the mouth open and the lips away from the teeth is the most comfortable solution. Our standard cheek retractor is perfect for most people, but for people with large mouths or lips, we also have a larger cheek retractor.

They say imitation is the highest form of flattery, so we are very proud that so many companies have decided to follow suit and create a similar kit. That said, you really do need to compare the results you get from the Advanced Whitening Kit™ versus other paint-on whitening kits, and then buy the one that gives the best results.
You'll get a 943.6KB JPG file.
More products from Dean Albanese