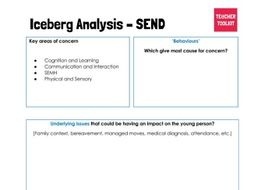 SEND Iceberg Analysis by @TeacherToolkit
This is a great tool for using with staff as a discussion point with new learners with SEN needs. It works well in a staff meeting setting, where you can ask staff to work in pairs to brainstorm everything they know about the young person. It gets staff talking, especially if you ensure that you mix people up with someone they don't normally work with.

The benefit for the teacher is that they can then leave the meeting with their colleagues thoughts and strategies so that they can finish the SEN Support Plan. The benefit for all staff, is that they can hear how others perceive the young person.
You'll get a 130.7KB .PDF file.
More products from @TeacherToolkit Ltd.