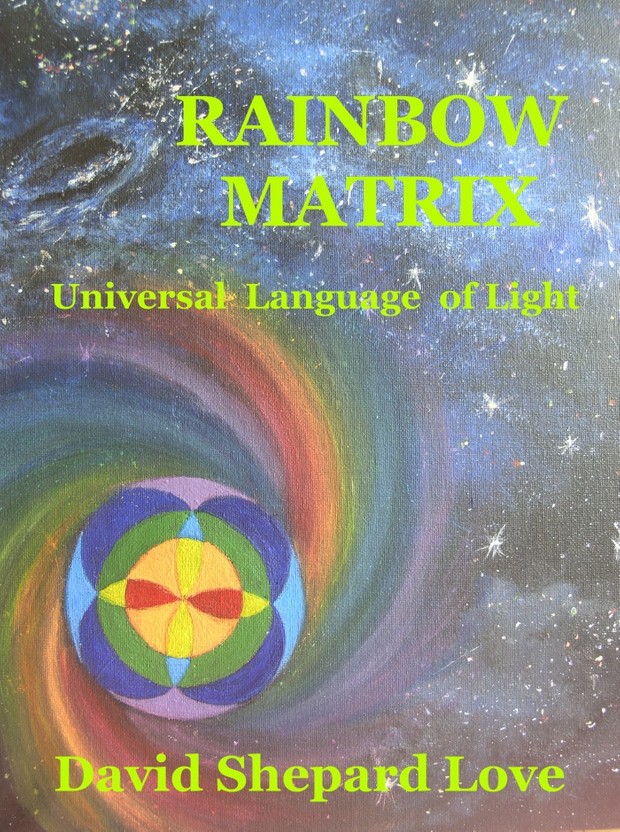 Rainbow Matrix ~ Universal Language of Light
Rainbow MatrixUniversal Language of Light
Let the Rainbow Journey Begin

www.RainbowEquation.com
Author – David Shepard-Love
297 pages
68 full color illustrations
Book Information
Rainbow Matrix is a book 40 years in the making. It represents a collective of the highest and best information on the rainbow. It is a comprehensive study of the language of light and how it manifests universally within base Sacred Geometry with the specific guidance of the natural rainbow. This book reveals all the major worldwide Rainbow Prophecies and how the effect us in the here and now. The earth is awakening as never before. Rainbow Equation Revealed is a guide book revealing the nature of Time, Dimensions and Para-Normal Reality. We as a people are forming a collective of consciousness on all fronts; Science, Spirituality, Philosophy, Metaphysics and Community. This books brings it all together into one place presenting the inner workings of these base aspects that once eluded us yet now are revealed as we come together as One Rainbow Family United in Peace, Love and Understanding to Create a Bold New Earth. There has never been a rainbow book like this one. It is timeless and enduring, a must read for any and all on the path of awakening to higher realities.
About Author David Shepard-Love
Born in United States in 1957 to Dorothy Shepard under the name of David Norman Christy. Then fifty years later he learned of his true biological father's identity; John Love. It was at this time he started using the name David Shepard-Love for all his teaching, writing and speaking endeavours. Shortly after graduating with a Business Management Degree in 1979 he started his journey as a metaphysical minister and guru with his mentor, half-brother Kenneth Christy. They would go on to spend thousands of hours discovering, analyzing and documenting the Rainbow Story. At that time David started an international metaphysical newsletter. Over the next several years he was primary coordinator and hosted of many metaphysical events; a monthly World Healing Meditation, Open Forum Lectures and a huge Universal Children's Day Fair.
In 1986, after living in an ashram for a year, he wrote his first of several books. Over the next decades he has engaged in many metaphysical disciplines as a metaphysical minister and teacher. He loves to produce websites and work as a community organizer and visionary. David Shepard-Love, the "Rainbow Guru" continues his work as a popular meditation leader, speaker and author. He has published two books "Love Illuminations" and "Rainbow Equation Revealed." His autobiography, "Rainbow Peace Bridge" and sacred geometry meditation handbook "Mental Yoga" are his new upcoming books.
About RAINBOW.GURU®

Inspired in part by the zodiac, Buckminster Fuller and the Erno Rubik in the early 1970's the teaching of the Rainbow Equation made its first appearance through Kenneth E. Christy. Kenneth, a natural savant of metaphysics, dedicated his life to the Rainbow teaching and its universal applications. In 1981 David Shepard-Love, started his mentoring under Ken lasting for decades. In 1983 an international publication, "Rainbow Communications" was started. Every year saw more and more evidence of the Rainbow Equation's correlations to the Universal Field Reality. The Rainbow Matrix became the foremost authority on the Universal Language of Light, always increasing in its mathematical precision and connections to the Rainbow Story in all its wonderful implications. Rainbow Communications, the newsletter, evolved into websites:
www.HeavenEarthLightPuzzle.com
,
www.7FoldBeing.com
,
www.NaturesWheel.com
and
www.Psi-Power.com
.
In recent years www.Rainbow.guru is one of a trinity of informative websites produced by David Shepard-Love. Rainbow.Guru® is the trademark name for the release of the most amazing and inclusive information of the Rainbow ever.
www.RainbowEquation.com
and www.MentalYoga.guru act as the scientific and sacred geometry meditation websites for eclectic website www.Rainbow.guru. The work of the science and revelation of the rainbow continues as researchers and visionaries throughout the earth bring these vital teachings to light and heart of consciousness.
You'll get 1 file (11.5MB)