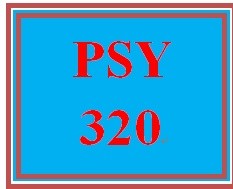 PSY 320 Week 4 Company Moitvational Profile Draft
PSY 320 Entire Course Link 
https://uopcourses.com/category/psy-320/
PSY 320 Week 4 Company Moitvational Profile Draft
Submit
 a working draft of the Company Motivational Profile Paper to the Center for Writing Excellence (CWE) for evaluation.
Incorporate
 the recommended changes into the final draft, due in Week Five.
Provide
 proof of your CWE evaluation to your instructor.
Click
 the Assignment Files tab to submit your assignment.
The assignment instructions are below:
Resource
: University of Phoenix Material: Company Motivational Profile Paper and Presentation
Construct
 a 10- to 15-slide Microsoft® PowerPoint® presentation, supported by a 1,500- to 1,750-word paper, discussing the motivational strategies of a successful, cutting-edge corporation.
Discuss 
the following:


The corporation's motivational strategies


The industry background


The organization's corporate culture and management


The strategies used by the company to motivate employees


Positive experiences at the company


Combination of motivational techniques


Use of strategies in attracting new employees or improving employee retention


Best practices


Potential improvements


Recommendations to address deficiencies


A company choice from the following list is suggested:
Note
: These are guidelines and are not all-encompassing. Please check with your instructor if you need additional suggestions. To avoid duplication, your instructor will approve your choice.


Southwest Airlines®


Intel®


Ben & Jerry's®


FedEx®


PetSmart®


General Electric Company®


Microsoft®


Walt Disney Company®


Ritz-Carlton Hotel Company®


W.L. Gore & Associates, Inc.®


Include 
at least four to six sources.
Format
 your assignment consistent with APA guidelines.
Click
 the Assignment Files tab to submit your assignment.
You'll get 1 file (3.7MB)