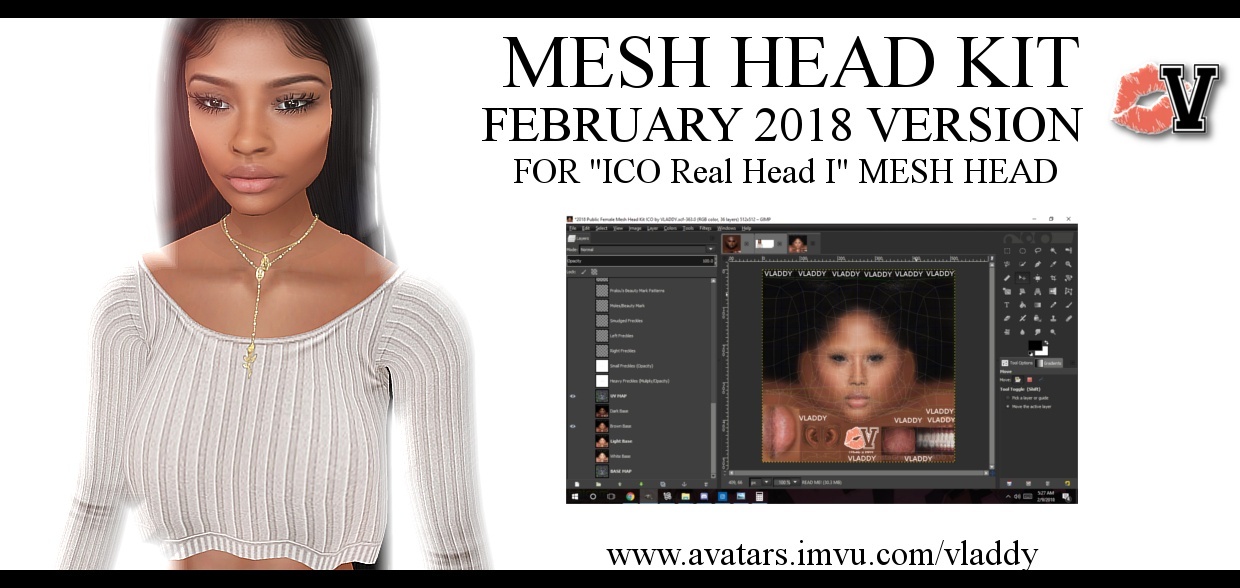 2018 Female Mesh Head Kit for ICO Real Head I by VLADDY
Hello everyone! It has been a year (technically a year and six days) since the release of my first Mesh Head kit for IMVU. I am so happy to release this new one. It is by far my favourite file to use when working on Mesh Heads. This file includes so many features you can attatch to your own Mesh Head texture. Please refer to the Youtube video to see a demonstration of what this Kit contains.
---
This Kit is not for people who has never used GIMP or Photoshop before. If you are new to image editting programs then this kit may be to complex for you. If you are a content creator on IMVU and know how to use GIMP and/or Photoshop this kit is perfect for you. This kit is a collection of assets used to make Mesh Heads look beautiful.
---
This is an uncontrolled-unrestricted digital product, therefore I do not offer refunds. If you would like to buy this kit using IMVU credits please message me on IMVU @ VLADDY. I charge 50,000 credits for this kit.
---
Derivable Link: 
http://www.imvu.com/shop/product.php?products_id=5029291
---
IMPORTANT INFORMATION:


YOU CAN NOT resell or share my file. This file is only for YOUR use and your use only. If anyone else wants the file pack please link them this page. You do not have the rights to sell these files.


---


Use these files only on IMVU. That means you MAY NOT use my kit on any other game besides IMVU. That means no Second Life, No SIMS, no GTA, just strictly IMVU use only. 


You'll get a 7.4MB .ZIP file.