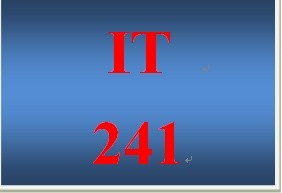 IT 241 Week 7 Presenting Wireless Solutions to the Client
IT 241 Entire Course Link 
https://uopcourses.com/category/it-241/
IT 241 Week 7 Presenting Wireless Solutions to the Client
Resource:
 Ch. 11 of 
CWNA Certified Wireless Network Administrator Official Study Guide
Access
 the Toolwire® lab:


Log on to the student website.


Scroll down to Week Seven


Click Toolwire Lab: Presenting Wireless Solutions to the Client. A new window will open with the lab's description.


Scroll to the bottom of the page.


Click Lab Access to begin the lab.


Complete 
the lab as indicated.
Take
 a screenshot of the completed Toolwire® lab:


Press Alt + Print Screen on your keyboard to create a screenshot.


Opena blank Microsoft® Word document.


Press Ctrl + V on your keyboard to paste the screenshot into the document.


Post
 your message.
Submit
 your assignment.
You'll get 1 file (1.3MB)