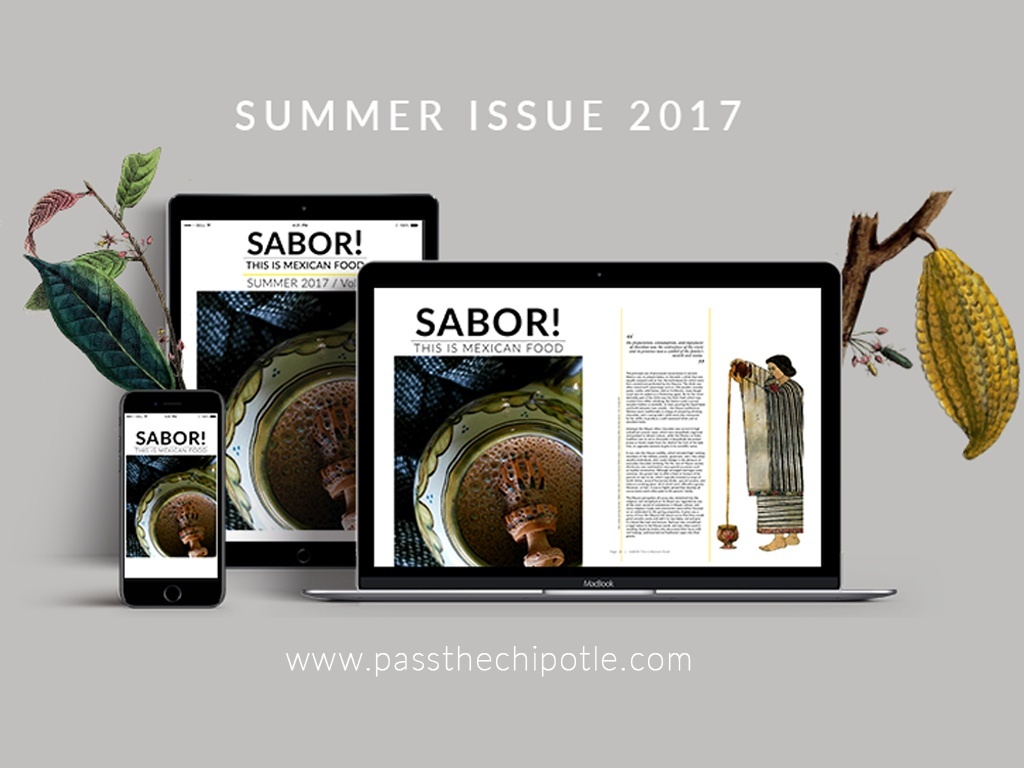 SABOR! This is Mexican Food. Summer Issue 2017
Did you know that one of Mexico's ancient gastronomic traditions became the world's most-desired guilty pleasure? Chocolate!
From the days of the Maya splendour, chocolate has been associated with refinement, sophistication, and decadence. Cocoa has inspired the most extraordinary recipes, sweet and savoury and now you can enjoy discovering its fascinating origins and even replicate the Aztec emperor's favourite drink.
Discover its extraordinary history from pre-Columbian times when entire empires worshiped cocoa and how chocolate ruled the colonial tables after the Spanish conquest of Mexico 4 in depth-articles including the history of the famous Mole Poblano that is spiced with chocolate.
Enjoy 7 delicious traditional recipes, from chocolate tamales to the Aztec emperor's favourite cocoa drink that you can prepare at home.
Get ready to start a wonderful journey, after all every time you eat chocolate in any form or preparation you are enjoying more than 4000 years of cultural history!
Summer 2017
Vol I
In this issue:
• WHEN MONEY GREW IN TREES Cocoa as currency in ancient Mexico.
• CHOCOLATE TAMALES
• MOLE The wonderful taste of cultural resistance.
• CHOCOLATE RITUALS In ancient Mexico
• AZTEC Chocolate
• HEAVENLY SINS The religious controversies of chocolate drinking in
colonial Mexico.
• CHAMPURRADO Recipe
• CHOCOLATE FONDANTS WITH PASSION FRUIT CUSTARD. Recipe
• CHOCOLATE CALIENTE Hot drinking chocolate. Recipe
Rocio Carvajal
Editor
Alex Drago
Production Manager
[email protected]
www.passthechipotle.com/magazine
You'll get a 7.8MB .PDF file.
More products from SABOR