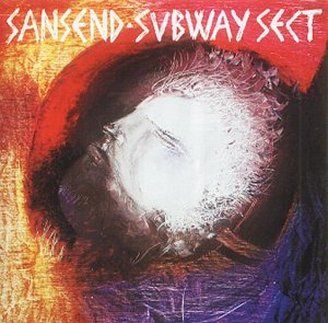 Sansend
From 2002 and hailed as his finest work for over ten years, it's a major collaborative project with several other musicians - hence the revival of the Subway Sect name.
Sansend was yet another change of direction for Vic, being mainly a beats-and-samples-based album. A very modern, urban sound, underpinned by Vic's legendary songwriting talent, and it showed that the Mortlake maestro was not one for standing still in his musical career. Recorded over two years along with sample-meister Nick Brown, guest musicians include Chantelle Lamond, a very promising young vocalist, and Bitter Springs stalwarts Simon Rivers and The Wizard. Reggae veteran Larry Marshall adds an extra dimension with a magnificent vocal performance on Heavy Heavy Heavy Load, the album's closing track.
Here are some words on the album from Vic himself:
Sansend- And how it was made.
An old friend (and my best man) Nick Brown got himself embroiled in Wavelength Studios, Sands End, after he had finished the building work and wiring. When he presented his bill the other partners couldn't pay it, and so asked him to become a partner too- It became a recording studio.
We started the album in 1999 and worked nearly every Sunday afternoon until early 2002, with the odd early evening midweek session thrown in. We also did midweek daytime sessions when the studio was available, and when me and Nick both had the same day off.
We had assistance from Ali Hakemi and Hamish Brown of Wavelength, and from Milo Ross, Phil Martin, Rob Simmonds and Chantelle Lamond. Also Si for Turn Your Back Vocal (first take) and lyrics. It was a song I had the melody of but wanted someone else to do the words! Thanks to Wiz for 'At the Circus' - looking forward to getting back on stage with yer mate!
FULL TRACKLIST
1. Introduction
2. Back In A Void Again
3. Nothin' Is Easy
4. Lazy So And So
5. Radio Sect 1
6. Go Against The Grain
7. The Writers Slumped
8. Americana on Fire
9. Radio Sect 2
10. Don't Take It All Out On Me
11. Turn Your Back On Everyone
12. Drop A Bomb On 'Em
13. Everything's Crashing
14. Run For It
15. At The Circus
16. Heavy Heavy Heavy Load (*Feat Larry Marshall)
www.vicgodard.co.uk/sansend.html
Extracts from reviews:
'In a year of comebacks from Punk's old guard, none was more welcome that Vic Godard's- Sansend was hailed by Uncut as the album of his career. Still 'opposing all rock'n'roll', the Sect of 2002 fuse hip hop and even bhangra with Vic's usual lyrical drollness (and new-found rapping skills!).
Further evidence, if need be, of his unsung genius'.
Uncut- 60 best albums of 2002
'a set of typically pop-friendly gems'
Q [4 stars]
'excellent new album.... a thrilling mix of styles',
Record Collector
'A lyrically inventive album posted over a number of themes, you know it shouldn't work - but it does, with a style and panache all it's own. Brilliant!
The Critic (
http://thecritic.info
)
"I speak nonsense fluently," Vic sings at a certain point on the album. I'm afraid you're terribly mistaken Vic. You don't speak nonsense, you're a f*ck*ng genius and this album proves it.
Anna Battista, Erasing Clouds (
http://www.erasingclouds.com
)
'Subway Sect have been going as long as I have been listening to music which is probably too long for either if us. Anyway, they've gone through various line up and musical direction changes intermittently over the years but here we are in 2002 with Sansend, with the Sect sounding more of a project or collective than a band, and a thoroughly mixed modern sounding record it is too. Generally, these are not so much songs (verse, chorus, middle 8) as tunes based around repetitive rhythms and raps of extended lyrics. Rock may form a basis for many tunes but this is mixed with various beats and sounds such as on Americana ?Fire which has a jaunty South American rhythm feel to it.
Vic Godard, singer and the head of the sect, adopts a more vernacular estuary accent then previously, sounding on occasion like Phil Daniels or mockney rapping over hip-hop-rock beats and programmed rhythms. He sounds freed of any convention of having to 'sing' and it is invigorating and startling to hear.
As always, the lyrics are intelligent, observant and witty ("who smashed every mirror in the place/so as not to see you losing face. Which one?" Turn your back on everyone) and a treat for anyone who actually likes lyrics. And if you think the Sect view is all internalised the demo indie rock of Drop a bomb on 'em is a timely observation – "So here comes another sequel/with dollars soaked in blood/of millions of people/from one side of the globe to the other/got to drop a bomb on 'em" . What also surprises is that on three of the songs others take lead vocals – Don't take it all out on me, Turn your back on everyone and the 70s reggae sounding Heavy Heavy Heavy Load which ends the album. A genuine surprise. Not so much as a return to form as a new direction for the Sect, and one well worth going a journey with them.'
SoundsXP.com
You'll get a 75.2MB .ZIP file.
More products from vicgodard