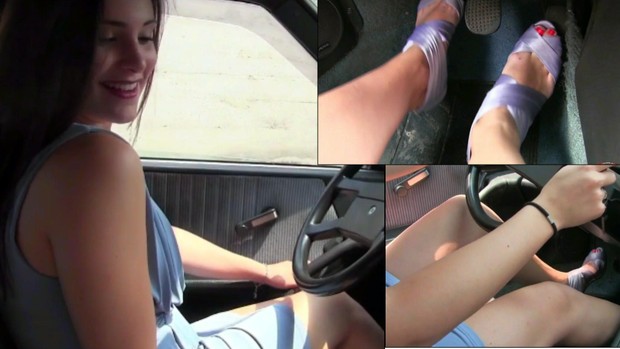 171 : Miss Evil Iris drives aggressively the Lancia Prisma
"What a beautiful car!" Miss Iris says.
Dressed with a violet dress and high heels, she is ready to test this car!

After looking around it to see how beautiful it is, she gets in and the engine is turned on yet...So she immediately wants to try this car!

She gets some problems regarding the gears, as she can't put the reverse without grinding!
Then the car stalls...

It's not the best beginning! She has to check if the car isn't okay, or if it was just bad luck!

She then goes around the street either backwards or forward, to see if the gears and the engine works at the best, and she enjoys also some burn out !

in this video you have 2 cameras: one over Miss Iris body, and the other is constantly on her feet pumping the gas!And as you love so much looking at her while admiring her feet dancing on the pedals, it's a picture in picture video! So you can see both at the same time!

Will the car survive against Miss Iris?
You'll get 1 file (411.2MB)