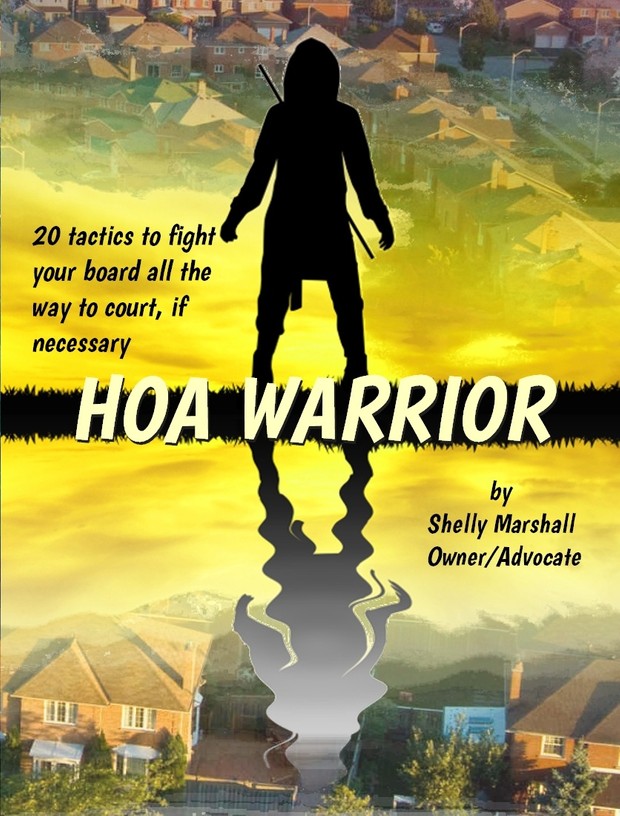 BOOK 1: HOA Warrior: 20 Tactics for Fighting your HOA, all the way to court if necessary
HOA Warrior (20 Steps to fight your HOA all the way to court if necessary) $4.99 **Updated for 2018 with current State Code links and relevant new statutes.**

Winning against your HOA and a rogue board may seem hopeless at times, I assure you it is not. Happy endings are increasing as homeowners wake up to the dilemma facing us now. However, there is so much more to consider than just fighting a bully board. What will it cost in time, money, and mental health? Your questions will be answered because I learned the hard way. You don't have to--I made the mistakes you don't have to make.

This report outlines the steps you and your neighbors can take to gain control of your association as it was meant to be. These are some of the many useful things you will find in the HOA Warrior e-book, Twenty Battle Tactics:

Presentation of what you are up against
How to handle both small infractions and broad sweeping abuses
The Grandmother Test
"Assess Your Association" Checklist
Evaluating the risks before proceeding
Forming your team
Service Position Chart for your Grass Roots group
How to win elections and fill positions
Using Non-binding mediation as opposed to arbitration
Gaining help from the community
Using the Internet to connect with your neighbors
Low-cost legal alternatives
How to find an attorney.
You'll get 1 file (3.2MB)
More products from Support for Homeowners